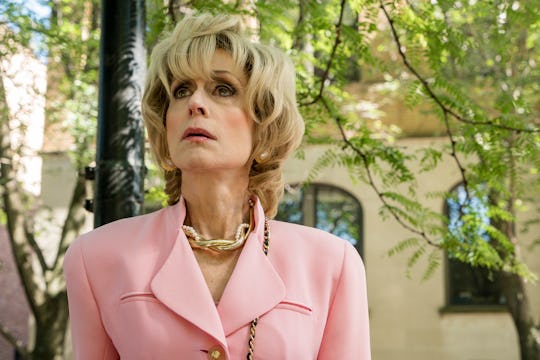 Matt Dinerstein/FX
How Lee Miglin's Wife Triumphed In The Face Of Great Tragedy
The third episode of The Assassination of Gianni Versace depicts the murder of Lee Miglin by Andrew Cunanan, and the subsequent discovery and fallout for the Miglin family. Marilyn Miglin, played by Judith Light, is an especially prominent figure as Lee's wife. But what about the real Marilyn? How did she cope after such a horrifying tragedy? What is Marilyn Miglin doing now?
According to Maureen Orth's book about the case, Vulgar Favors, Marilyn had been away on a trip the weekend of the murder. She had a line of cosmetics named after herself that she appeared regularly on the Home Shopping Network to sell, and had been filming an appearance in Canada when Lee was killed. She knew something was amiss when Lee did not arrive to pick her up from the airport, and her suspicions were confirmed when she went home to find him missing. There were also signs someone had been in the house. Later that day, Lee's body was found in the garage.
Lee and Marilyn had been married for 38 years during which they had established themselves as prominent figures in Chicago, their home city. Lee was a hugely successful real estate developer and Marilyn had her makeup line, as well as a boutique. According to The Washington Post, Oak Street in Chicago was even renamed Marilyn Miglin Way.
At the time of her marriage to Lee, when she was only 20 years old, Marilyn was described in Vulgar Favors as "a leggy, onetime chorus girl who began by developing makeup that would not run while working up a sweat dancing." Marilyn Miglin Cosmetics grew over the course of Marilyn's marriage to Lee, and she also became known as a humanitarian. She worked to provide beauty services to burn victims and the facially disfigured, according to the bio section of her website.
A former apprentice of Marilyn's named Erica Torresso told Day Spa Magazine that she once accompanied Marilyn on one of her monthly visits to the Craniofacial Center, a trauma unit. "I saw people missing ears and eyes, suffering from terrible burns and prosthetic limbs, and Marilyn would put makeup on them, tell them how awesome and beautiful they were, and make them feel great," Torresso said.
In the years following Lee's murder in 1997, Marilyn has continued to maintain her company. The website for Marilyn Miglin Cosmetics appears to be active to this day, and her products can also be found on the Home Shopping Network. In 2012, Michigan Avenue Magazine reported that Marilyn had just celebrated 19 years on HSN. According to that interview, her approach to makeup "was — and still is — to teach women how to apply makeup that is correct for their lifestyle."
She also continued with her philanthropic work, and was honored with the Raoul Wallenberg International Humanitarian Award, according to the biography on her website. An article on Town & Country discussed her efforts to raise money to preserve Oak Street in Chicago (a.k.a. Marilyn Miglin Way) and a program she founded called the Women of Destiny that matched young women up with successful female mentors in various professions.
In 1998, the generally private Marilyn talked about Lee's death with the Chicago Tribune, saying, "I don't think you heal — you never close up that gaping wound — but you adjust. I lived the life of a fairy princess and I had a prince for 38 years, and then one day my prince went to war and didn't come back."
In 2012, she told Michigan Avenue Magazine, "I think of him every single day." Marilyn remarried in 1999 to Naguib Mankarious, but the Chicago Tribune reported that he passed away just a few months after their wedding.
It appears Marilyn has done well in the wake of her painful trauma, and is successful to this day. You can even still buy her signature fragrance Pheromone if you have a couple hundred dollars to spare.
Check out Romper's new video series, Romper's Doula Diaries:
Watch full episodes of Romper's Doula Diaries on Facebook Watch.