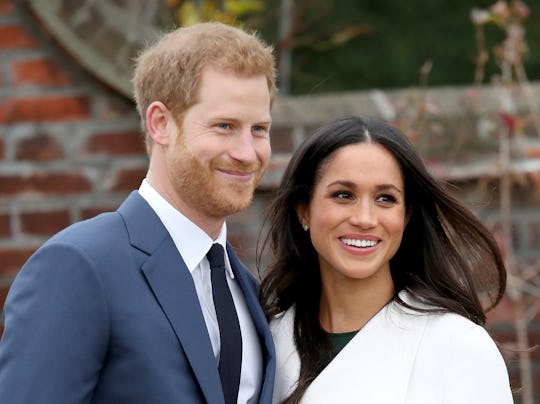 Chris Jackson/Getty Images Entertainment/Getty Images
Meghan Markle Has Made A Name (And A Net Worth!) For Herself
On Monday, Kensington Palace announced the royal engagement of Prince Harry and actress Meghan Markle. The couple, who have been dating since 2016, are set to marry in Spring 2018. Fans of both are thrilled for the upcoming nuptials, though some are focusing on what Markle, an actress, is set to inherit through her royal marriage. Well, Meghan Markle's net worth proves not only how Markle definitely doesn't need a royal inheritance, but just how successful she is in her career.
Markle has been working in entertainment since her first role in 2002. Since then, she has made a very successful name for herself, appearing in 30 titles, according to IMDB. Most notably, the actress has appeared in the TV drama Suits, on USA, since 2011. She plays Rachel Zane, a paralegal, who has been on the show since the very beginning episode. Recently, Us Weekly reported that after seven seasons, Markle would be leaving the show. That's OK, though, because in her time on the show (plus other projects), Markle has amassed a projected net worth between 5 and 7 million dollars.
Before making it big in Hollywood, Markle spent time doing smaller roles on screen in both TV and film (for example, she was a "briefcase girl" on Deal or No Deal, according to an Esquire profile on her from 2013). Her father, Thomas Markle, is an Emmy award-winning lighting director, so the industry truly runs through her blood. She studied theater in college, she is a Northwestern University graduate, as well as getting a bachelor's degree in international studies, clearly proving her interests go far and beyond acting. She even did an internship at the U.S. embassy in Buenos Aires.
According to Newsweek, Markle is set to marry into a relationship where her partner, Prince Harry, is worth quite a bit of money himself. Despite being royalty, the prince has also worked throughout his life — though "currently unemployed" as some snarky and hilarious reports on his recent engagement point out — and is worth $40 million. Does Markle need that money? Besides coming from hard-earned money herself, Markle and Prince Harry both have their eyes set on something a little more important than a big bank account.
One of the most admirable things about Markle is her commitment to charity. Recently, Markle was honored for her philanthropic work by Vanity Fair U.K.. The soon-to-be bride is deeply involved with One Young World, a U.K. not-for-profit that pushes young leaders to come up with solutions for global issues. She's even a Counsellor at the organization.
Editor's Note: The Instagram post has since been deleted.
Prince Harry is also very consumed and passionate about charity, even starting his own in 2006. Sentebale is an organization that supports "the mental health and well-being of children and young people affected by HIV in Lesotho and Botswana."
Markle also had a lifestyle website, The Tig, which she shut down in April 2017, after overseeing as editor-in-chief since 2014. Despite some claims, a source close to the actress says that the shut down of her website, which was named for the wine Tignanello, was not due to her relationship with Prince Harry.
The couple is set to marry in Spring of 2018, which is around the six year anniversary of the royal wedding between Prince William and Kate Middleton.