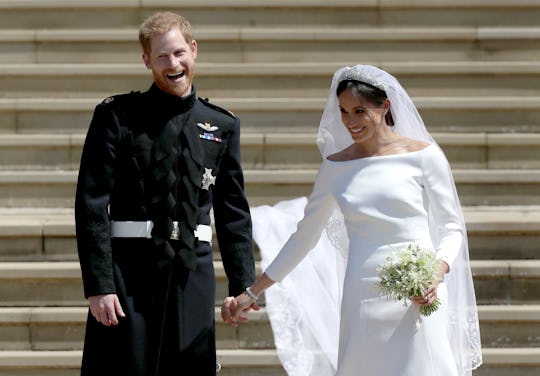 WPA Pool/Getty Images Entertainment/Getty Images
Here's The Deal With Meghan Markle's Last Name Now That She's Officially A Duchess
As of Saturday, May 19, Meghan Markle's life changed forever. Sorry, let me rephrase that: Meghan, Duchess of Sussex's life changed forever. That's right — the actress-turned-royal is no longer a Markle. And given that her new title doesn't quite incorporate a last name, people are likely wondering what Meghan Markle's new last name is now that she's married to Prince Harry.
Meghan, Duchess of Sussex will no longer legally go by the surname Markle. But, as you can see, news outlets will continue to use the name on some occasions, just as Catherine, Duchess of Cambridge is still often called Kate Middleton. "Once married, Meghan will sign as Meghan, no last name," royal expert Marlene Koenig told Town & Country. "Just as Harry signs as Harry. Royals use only a first name."
But what about for those occasions where the duchess may need to use a last name, and she wants to use one that reflects her new family? As it turns out, she would use the name Mountbatten-Windsor, just as Queen Elizabeth II, Prince Philip, Duke of Edinburgh and most of their descendants do on such occasions. But, where did the name Mountbatten-Windsor come from? The origins of the name are actually super fascinating.
The history of the last name Mountbatten-Windsor is explained in great detail on the official royal website. In 1917, George V (the queen's paternal grandfather) declared Windsor to be the name of his "House," of his dynasty, and as his last name, the website explained. Previously, George V was technically part of the House of Saxe-Coburg-Gotha, which was the family name under his father, Prince Albert.
When George V chose the name, he declared the following, as explained on the royal website:
All descendants in the male line of Queen Victoria, who are subjects of these realms, other than female descendants who marry or who have married, shall bear the name of Windsor.
I know what you're thinking — that vaguely sexist proclamation doesn't encompass Markle's identity. However, eight years after the queen took the throne, in 1960, she and Prince Philip made an addendum, the royal website explains. They wanted their descendants to have a name that reflected both of them, so they added Prince Philip's surname, Mountbatten, making their house officially Mountbatten-Windsor. The queen proclaimed that whenever her children needed a last name, they would use Mountbatten-Windsor, the royal website notes.
However, when both Prince William, the Duke of Cambridge, and Prince Harry attended school and served in the military, they opted for a different last name. They went by Harry Wales and William Wales, respectively, to honor their father's title of Prince Charles of Wales, according to INSIDER. Similarly, Prince William's son Prince George uses the name George Cambridge at school, to honor his father's title, explained The Telegraph. They all could have opted to use Mountbatten-Windsor, however names like Cambridge and Wales might draw slightly less attention (and they surely take less time to write down). And in more informal settings (for example, when making restaurant reservations) Meghan and Harry could opt to use Sussex as their last name, though nothing has been confirmed. Plus, their future children would likely use Sussex as a surname.
But technically, Mountbatten-Windsor is not a legal last name. Declarations regarding names, even those by a current monarch, do not "pass into the law of the land," explained the royal website. Not to mention, Mountbatten-Windsor does not typically appear on royal birth certificates. For example, Prince Louis' birth certificate lists his name as His Royal Highness Prince Louis Arthur Charles of Cambridge, as reported by People.
All that being said, the new duchess spent years building her career as a famous actress and as a humanitarian under the name Meghan Markle. So, it won't be a surprise if her maiden name continues to be used in media coverage, especially in the first few years following the wedding — though Meghan Mountbatten-Windsor does have a nice ring to it.