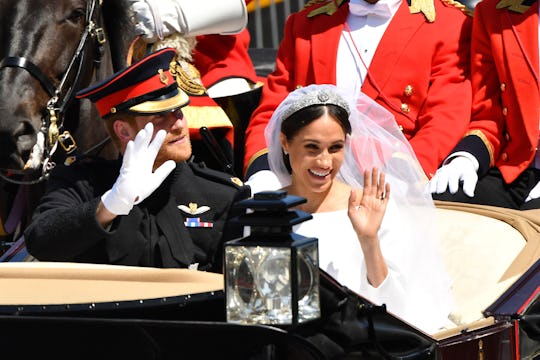 Leon Neal/Getty Images Entertainment/Getty Images
So The Meaning Behind Meghan Markle's New Title Makes A Historical Statement
A beautiful commoner meets a prince and they get married and she becomes a princess. That's how it works, right? Well, not in Great Britain evidently. To be an official princess, you need to be born royal, so even the former Kate Middleton, whose husband, Prince William, is second in line to the throne, didn't get to be Princess Kate, she is officially "Her Royal Highness the Duchess of Cambridge" or "Duchess Kate." Which might make you wonder what Meghan Markle's official royal title is, now that she and Harry have tied the knot.
It is tradition for the British monarch to bestow on royals a new title on their wedding day, as the Telegraph described, and Queen Elizabeth has kept up that tradition for her grandson Harry. In fact, because Harry is one of the first six in the line of succession (with the birth of Prince Louis, Harry is now number six), Queen Elizabeth had to give her permission for them to marry, according to Marie Claire. Now that they are married, Prince Harry and Meghan Markle will be known by their new titles, Duke and Duchess of Sussex. Princes are typically given the title of Duke upon marriage as William became the Duke of Cambridge so it's not a surprise that Prince Harry was also given the title of Duke.
If don't watch The Crown and you're wondering why Queen Elizabeth's husband, Prince Philip, gets to be called Prince Philip, even though he also married into the family. This one is kind of complicated. He's was born a prince in his own right, having been born Philip, Prince of Greece and Denmark. When he married then Princess Elizabeth in 1947, he relinquished his Greek and Danish titles and was given the British titles Duke of Edinburgh, Earl of Merioneth and Baron Greenwich (the British really like their titles!). In 1957, he was formally made a British Prince, according to Town & Country.
When a man is named a Duke, the title then passes on to his sons. When there are no longer any male heirs, the Dukedom is folded back into the monarchy, as the Telegraph explained. They are then considered "suspended." Queen Elizabeth, or the reigning monarch, is then able to select one of these Dukedoms for Harry upon his marriage. Now that Harry is the Duke of Sussex, Meghan is the first Duchess of Sussex. The last Duke of Sussex, Prince Augustus Frederick, died in 1843. He had a wife, Lady Augusta Murray, but their marriage was considered legally null and void, so she never became a Duchess, according to Royal Collection Trust.
What's particularly noteworthy of Meghan's title is that the Duke of Sussex previously, Prince Augustus Frederick, was an anti-slavery campaigner, according to CNN. As noted by Town & Country, it is unclear if the queen considered the history of the title and the former title owner when naming Prince Harry and Meghan Markle, but it goes without saying, it feels like it has meaning. Meghan Markle has left her career of being an actress behind to dedicate herself to causes that are important to her, which includes clean water initiatives, women's access to sanitary products, as well as gender equality.
That Meghan was even allowed to marry Harry, not to mention get a royal title, tells you about how much has changed. Previously, royals were not allowed to marry divorcees. The Duke of Windsor gave up his right to the throne in order to marry Wallis Simpson in 1936, People reported. By the time Prince Charles wanted to marry the former Camilla Parker-Bowles, the rules had been changed to allow them to wed, clearing the way for Meghan, too. Meghan had another strike against her because she was Catholic. The new royal rules of succession act was passed in 2013. Not only does it allow girls to keep their place in line to the throne and not be bumped by their younger brothers (do you hear that, Princess Charlotte?), it also permits Royals to marry Catholics, something that had been banned since King George III's Royal Marriages Act of 1772.
Whether or not a girl born Rachel Meghan Markle ever expected to grow up and become royalty, she did. And now she has the regal title of Duchess of Sussex to prove it.