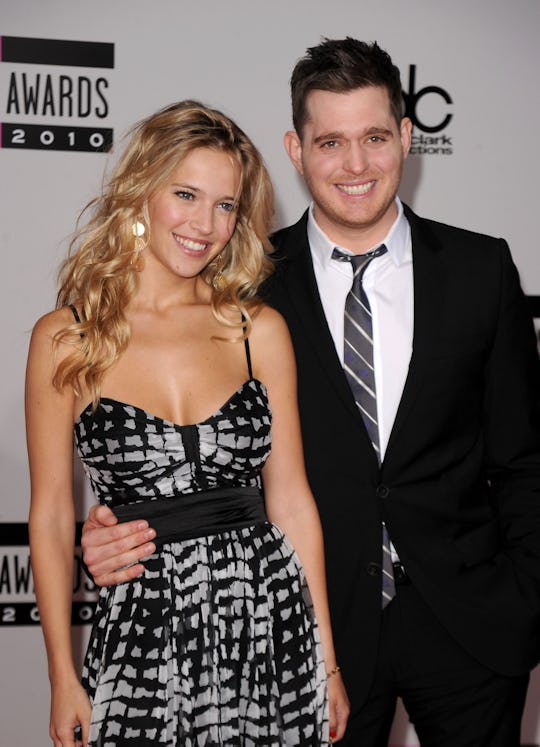 Jason Merritt/Getty Images News
What Is Michael Buble's Son's Name? He & His Wife Welcome Their Second Child
On Friday, Canadian singer Michael Bublé and wife Luisana Lopilato welcomed their second child, a baby boy, into the world. Bublé, who is best known for his "It Had To Be You" duet with the infamous Barbara Streisand, already has a two year old son, Noah, with Lopilato, and Noah's brother's name is equally as adorable. What is Michael Bublé's second son named?
According to a post by the 40-year-old crooner on Instagram, the newborn has been named Elias Bublé. (Beautiful!)
And then there were 4. Introducing Noah's little brother Elias Bublé #family #blessed #brothers.
Bublé married Lopilato, a 28-year-old actress, model and singer in 2011, after three years of dating and a two year engagement. On August 27, 2013, Lopilato gave birth to their son Noah, and in July, the couple announced they were expecting a second. Well, actually, Noah announced they were expecting. You see, in what is arguably one of the sweetest celeb baby announcements on Instagram, little Noah touches his mother's stomach and exclaims "Baby!" while Britney Spears' "Oops … I Did It Again" plays in the background of a short-but-super-sweet video.
In 2014, Bublé said he loved being a father, according to Us Weekly:
I love everything about the kid.
However, in a 2013 interview with People — just a few months earlier — Bublé also noted those fatherly feelings and instincts everyone talks about weren't instantaneous for him:
I didn't have that overwhelming feeling of love. I'm being honest with you...I'd heard all of these stories about how this moment was life-changing, but it wasn't like that for me. I was nervous for my wife, and I was happy that he was healthy…but, that day, it was like meeting a stranger...[but t]hat next night (after the baby was born), it really clicked. I was looking at him and all of a sudden, I got it…[now] I sing to him all day and all night. When he's crying with somebody else and I hold him and I sing to him, he just stops. It's really cool.
(Can I just say I love everything about this: from the potentially unflattering, but totally honest, personal admission to the fact Bublé sings to his babes? I mean, of course he does but... swoon.)
Anywho, welcome Baby Elias!