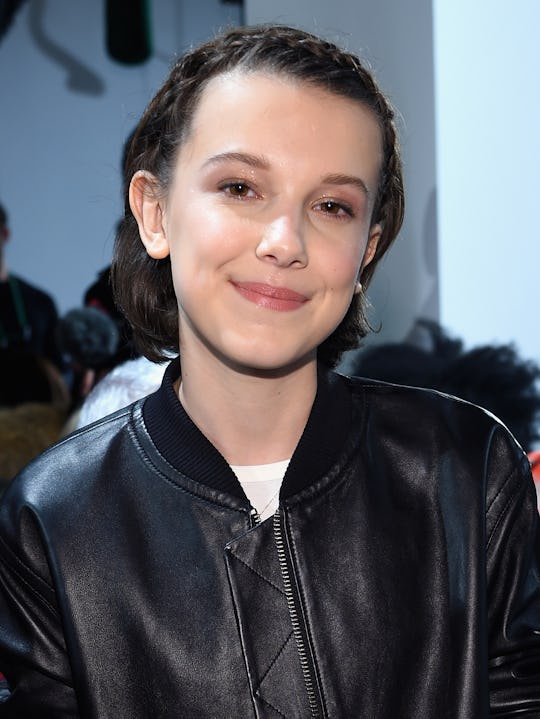 Dimitrios Kambouris/Getty Images Entertainment/Getty Images
Millie Bobby Brown's Blue Ribbon Is Important
Fans of Stranger Things tuning into the 2017 MTV Movie & TV Awards would have caught actress Millie Bobby Brown early in the show's opening number – and they might have noticed a ribbon pinned to her dress during her brief appearance. It was a blink and you'll miss it moment where Brown stood in for the "TV" portion of the Movie & TV awards, alongside Get Out's Lil Rell Howery, but the blue ribbon was still fairly visible. But what is Millie Bobby Brown's blue ribbon at the 2017 MTV Movie & TV Awards?
Blue ribbons have stood for a variety of causes throughout the years depending on the shade, but this particular one stood for the ACLU. When Brown went up to accept her award for Best Actor in a Show, the little letters on the ribbon were much easier to read, giving fans a definitive answer as to which cause she was supporting. ACLU ribbons have appeared on the red carpet quite a lot lately, with more than a few popping up at the 2017 Oscars, too. The American Civil Liberties Union is a nonpartisan, nonprofit group that works to protect individual rights and liberties granted by the Constitution and laws of the United States.
Brown is in good company with her support of the ACLU; at the Oscars, actors like Ruth Negga and Lin-Manuel Miranda also sported the telltale blue ribbon. The organization has encouraged the visibility brought by celebrities at events, which brings even more attention to the cause. But there was also another symbol pinned next to Brown's ACLU ribbon: a small blue ampersand. Eagle-eyed fans were quick to notice that it was a symbol for GLAAD.
The GLAAD ampersand was created to support unity instead of division, representing all of the various things that make up someone's identity. GLAAD introduced the Together movement, complete with ampersand pins, with the intention of "showing solidarity and speaking up to resist forces that try to divide," according to GLAAD president and CEO Sarah Kate Ellis in Variety.
In addition to Brown's win for Best Actor in a Show, she was nominated for Best Hero and Stranger Things was nominated for Best Show. Considering how big Brown's fanbase is and just how much attention she was bound to get for her award show appearance, it was great to see her bring visibility to organizations that matter to her.