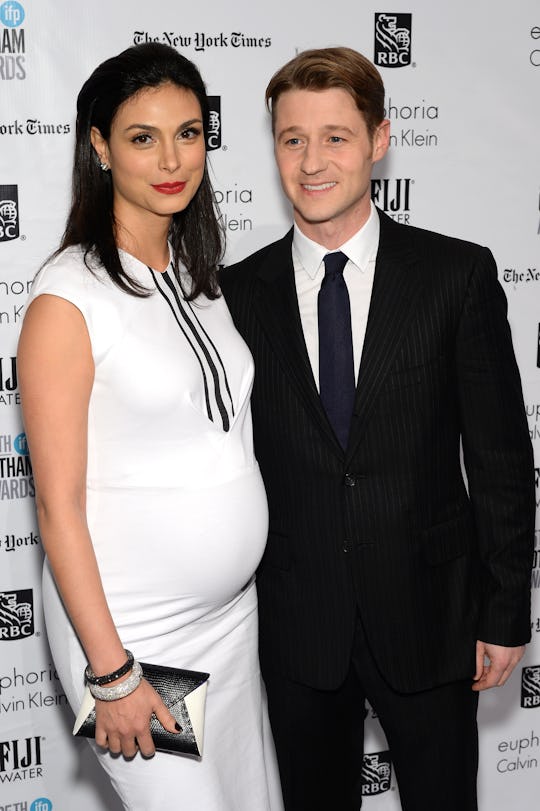 Andrew Toth/Getty Images Entertainment/Getty Images
What Is Morena Baccarin's Daughter's Name? She & Benjamin McKenzie Welcomed A Little Girl
All the drama surrounding Morena Baccarin's pregnancy has been overshadowed by some very happy news. Her family has grown — officially! Baccarin and Benjamin McKenzie announced Friday that she gave birth to a daughter last week. What is Morena Baccarin's daughter's name? They chose a beautiful — albeit long — name for their baby girl. Congratulations to the new parents.
Baccarin and McKenzie met on the set of Gotham, which they co-starred in together played a couple that was also expecting a child. Their daughter (in real life), Frances Laiz Setta Schenkkan, was born on March 2. Their reps Jennifer Allen and Rhett Usry told USA Today, "All are happy and healthy and appreciate the well-wishes."
This is Baccarin's second child and McKenzie's first. She has a 2-year-old with her ex-husband, Austin Chick, with whom she was embroiled in a bitter separation and custody battle at the beginning of her pregnancy. Chick alleged that Baccarin began her relationship with McKenzie while they were still together, though Baccarin maintained that they were already separated. The two split up officially in July 2015.
While all that was going on, Baccarin's pregnancy was declared "high-risk" by her doctor. She received praise from mothers and fans for the way she dealt with those two high-stress situations. She fought to postpone the hearing and deposition needed to finalize her divorce to ensure the safety of her child. She declared in court documents, "I am now almost eight months pregnant, and I continue to have a high risk pregnancy. My physician, who I last saw on Jan. 29, 2016, has advised me to have as much bed rest as possible and limited activities." She went on:
She further advised that sitting (as to answering questions) for a deposition, regardless of length of time, is unduly and unnecessarily stressful to me at this time. Such stress will affect my personal well-being and potentially cause harm to the health of my unborn child.
Baccarin and McKenzie first announced their pregnancy to E! News back in September, and, in February, Baccarin's due date came and went. At a recent screening of Deadpool in New York City, it seemed like walking a red carpet was the last thing she wanted to be doing. She told E! news, "My water could break right now." Despite the excitement of the event, she said she felt "like crap." Very understandably, she said, "I want to sleep all day and not be in a dress and heels."
Luckily, the wait is over and little Frances has finally arrived. Now Baccarin is ready to take on her next great role: mother.