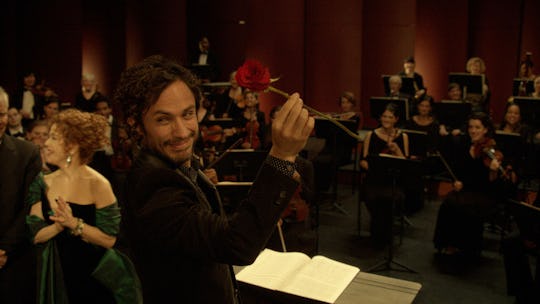 Amazon Studios
What Is 'Mozart In The Jungle'? The Amazon Series Just Got 2 Golden Globes Noms
It seems there is good news for fans of Mozart in the Jungle, the quirky and slightly bizarre Amazon comedy series: The show has been nominated for several Golden Globes, including Best Television Comedy and Best Performance By An Actor In A Comedy Series. What's more, the show's second season is slated to premiere on Amazon later this month. But exactly what is Mozart In The Jungle, and what is it about?
Mozart In The Jungle is a half hour comedic drama which, in essence, boils down to two things: identity and love. It focuses on finding yourself and finding that special someone in the City That Never Sleeps. Oh, and the main character, Maestro Rodrigo (played by Gael Garcia Bernal), also happens to be the conductor for the New York Symphony — which has allowed this show to gain a cult-like following in the musical community.
The pilot was written by Roman Coppola, Jason Schwartzman, and Alex Timbers and directed by Paul Weitz, and each continues to be involved with the Amazon Studios project.
That said, while the show has gained critical acclaim —it currently holds a 95 percent rating on Rotten Tomatoes — it has struggled to gain traction with casual viewers. But with season two on the horizon (release day is set for December 30) now might be the perfect time to give this Golden Globe nominated series a try.
Images: Courtesy of Amazon Studios