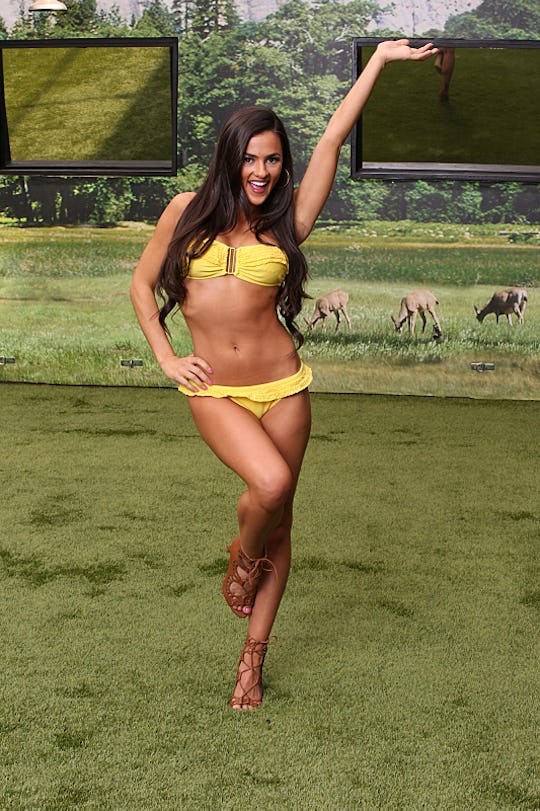 Monty Brinton/CBS
What Is Natalie Negrotti's Job Outside 'Big Brother 18'? She Knows How To Be A Team Player
Big Brother 18 is now in full swing. Houseguests have made alliances, showmances have begun, and there's already been two evictions and a lot of twists. As fans get more acquainted with the houseguests on the live feeds and on air, America has already begun to discover some of their favorites. One standout thus far is Natalie Negrotti. As one third of the Spy Girls alliance, Natalie is all about girl power. She's friendly, upbeat, and everyone in the house genuinely likes her, even though that won't stop the Eight Pack from getting rid of her eventually. With such a bubbly personality is it's a wonder what Natalie's job outside of Big Brother 18.
When she's not working as "Flirty Spy", Natalie is an event coordinator in Franklin Park, New Jersey. Before that she was an NFL cheerleader for the New York Jets. According to her LinkedIn, Natalie is now a Program Experience Coordinator for the Garden of Dreams Foundation. It's an subsection of the Madison Square Garden Company, where she, according to her profile, helps coordinate events with the New York Rangers, Knicks, Liberty and MSG Entertainment, and Radio City Music Hall. She's also worked as a writer, reporter, and associate producer over the years.
"I will have an alliance with only three women," Natalie said in her bio for the show. "I know how to deal with large groups of women."
And it seems Natalie is sticking to this plan. Teaming up with Bridgette and Bronte, the three have kept their tiny alliance pretty tight, trusting only each other. However, their alliance probably isn't as strong as Natalie would've liked. So far, both Bridgette and Bronte have been on the block for eviction with Bronte on the block during Week 2. They also previously chose the wrong side when it came to the live eviction last Thursday, voting for Paulie to go home instead of Jozea.
However, Natalie has another plan up her sleeves.
"I will also add men to our alliance," Natalie said in her bio. "I'm very kind, but I'm very tough and have street smarts because I was raised by a single mother...People won't expect how much adversity I faced and how tough I am because I'm so pretty." Very humble, right?
Will Natalie surprise us all by stepping up her game and turning on everyone? If she does, she'll have to do it soon. With the Eight Pack look to get rid of the Rookies, Natalie could find herself on the block next week if she's not careful. It's time she put her Flirty Spy skills to good use before it's too late.