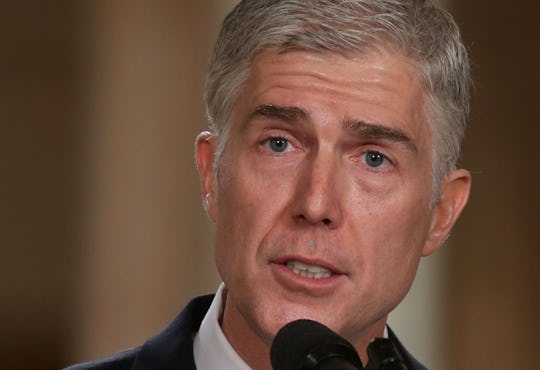 Alex Wong/Getty Images News/Getty Images
Neil Gorsuch's History With The Law Is Impressive
Less than two weeks into his presidency, President Donald Trump has announced his nomination of Justice Neil Gorsuch to fill the late Antonin Scalia's seat on the Supreme Court bench. Trump had promised on the campaign trail that he would appoint a conservative justice. Trump's long list of SCOTUS candidates may as well have been the Who's Who of legal conservatives. While not the most extreme conservative from Trump's original list, there's no denying that Gorsuch is philosophically poised to take on Scalia's judicial mantel. What is Neil Gorsuch's law history? He boasts an impressive resume of accomplishments, as well as judicial opinions that fall in line with both the GOP platform and Trump's own views.
Gorsuch's law career began at Harvard Law School, graduating with his J.D. in 1991. He was at law school the same time as President Barack Obama; Obama and Gorsuch were classmates at Harvard Law. There, he was the recipient of the very prestigious Truman Scholarship. While at the University of Oxford, Gorsuch received the similarly prestigious Marshall Scholarship. In 1995, Gorsuch was an attorney with Washington, D.C. law firm Kellogg, Huber, Hansen, Todd, Evans & Figel, becoming partner in 1998. While his early law career is indeed noteworthy, it's Gorsuch's time as a justice on the U.S. Court of Appeals for the 10th Circuit that paved the way for the 49-year-old to make his way to the top of Trump's SCOTUS short list.
Gorsuch was nominated by President George W. Bush for the 10th Circuit Court of Appeals in May 2006, and was easily confirmed by the U.S. Senate in a confirmation hearing that lasted 20 minutes. His opinions and rulings on the court are particularly notable for the sheer size of the land it covers: The 10th Circuit Court, based in Denver, Colorado, covers nearly 20 percent of the United States.
Some of Gorsuch's most prominent opinions while on the court included his concurring opinion in the Hobby Lobby case, favoring the protection of religious freedoms over required coverage for birth control for women's health as mandated by the Affordable Care Act. In 2003, Gorsuch upheld the death penalty sentence for an Oklahoma man that made it all the way up to the 10th Circuit Court of Appeals; his opinions practically mirror those of Justice Scalia when it comes to death penalty petitioners to the Supreme Court.
Despite opposition from Democrats on the Hill, Republicans have indicated they intend to move forward with Gorsuch's confirmation as quickly as they are able — unlike their sheer denial of even scheduling Merrick Garland a confirmation hearing while Obama was president. In that regard, Gorsuch does have an interesting opinion. Writing for United Press International in 2002, Gorsuch had plenty to say about the politically-motivated delay in confirming Garland to the U.S. Court of Appeals in Washington, D.C., along with John Roberts at the time:
Meanwhile, some of the most impressive judicial nominees are grossly mistreated. Take Merrick Garland and John Roberts, two appointees to the U.S. Court of Appeals in Washington, D.C. Both were Supreme Court clerks. Both served with distinction at the Department of Justice. Both are widely considered to be among the finest lawyers of their generation...
As a result, Garland was left waiting for 18 months before being confirmed over the opposition of 23 senators... So much for promoting excellence in today's confirmation process.
Seems like Gorsuch is more than in favor of a quick confirmation process himself.