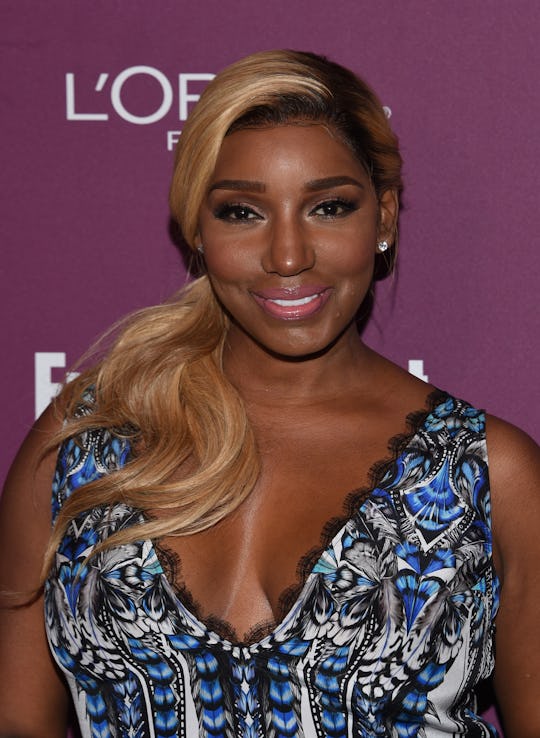 CHRIS DELMAS/AFP/Getty Images
NeNe Leakes Is Back On The 'RHOA' & Making Serious Bank
Aside from all of the drama, obviously, the real reason people tune in to watch The Real Housewives of Atlanta (and other cities) is for the voyeuristic pleasure in watching women with way too much money spend it extravagantly. Now that a certain leading Atlanta lady is back in the fold, I want to know, what is NeNe Leakes' net worth? This RHOA makes serious bank and don't you forget it. Not that she'd ever let you, of course. Leakes is quite possibly the Housewife who has gained the most (monetarily) from her time on the show. Reality TV doesn't improve lives as a rule, but it's definitely worked out for this woman.
Leakes has never been shy about sharing her past work as an exotic dancer or her difficult childhood. But she was determined to make it in show business and she has most certainly done that. While some women use the Housewives franchise as a way to stay relevant once their heyday is over, Leakes used it to launch one heck of a successful career in the world of entertainment. And now she's back on Bravo as one of the most highly paid (if not the most highly paid) of the 'Wives.
Leakes is now worth a reported $12 million, which is huge even in Housewife land where diamonds and Birkin bags fall from the sky like rich lady hail. She can probably thank her huge personality and willingness to fight a little dirty for making her one of the most entertaining and beloved Housewives of all time. I can't make this claim officially, but I have a feeling it was in large part due to Leakes that the Atlanta contingent of the Wives became the highest rated franchise of the entire series. The woman knows how to make good TV. Eventually, she negotiated her way up to a $750,000 salary per season, in addition to all of her other money-making endeavors. By the time she left the show, she was pulling in a cool $1 million.
Reality stars don't usually manage to leverage their TV stardom into legitimate acting work, but Leakes is clearly not your average reality star. After Real Housewives, Leakes landed recurring roles in the TV shows The New Normal as Mrs. Rhoades and then in Glee as Roz Washington. But she's worked as an actor outside of the screen as well. She made headlines when she worked alongside KeKe Palmer in the Broadway adaptation of Cinderella, where she played the wicked stepmother. On Watch What Happens Live, Palmer graciously said that her ex-costar was only a diva about doing her own makeup. While Broadway stars generally do their own makeup, Leakes was not having that. And honestly, everyone could have predicted that one, right? After Cinderella, Leakes went on to star in Chicago on Broadway as Mama Morton, a role previously played by Queen Latifah in the film version. So yeah, she did pretty well.
Now that she's back in Atlanta, new reports say that Leakes has managed to negotiate a whopping $2.5 million salary per season. I understand that this is how negotiating works and that the show probably wants her more than she needs the show, but still. That is a lot of money to go ahead and live life in front of cameras. Leakes will be joined in her triumphant return by Kim Zolciak-Biermann, also a former Real Housewife of Atlanta, who has not been on Broadway but who has been very busy producing a huge brood of children and starring in her own spinoff Don't Be Tardy alongside her husband Kroy Biermann, their several kids, dogs, and certain members of the household staff.
This season of Real Housewives of Atlanta is definitely going to be a wild ride. So, bloop!
Watch Romper's new video series, Romper's Doula Diaries:
Check out the entire Romper's Doula Diaries series and other videos on Facebook and the Bustle app across Apple TV, Roku, and Amazon Fire TV.