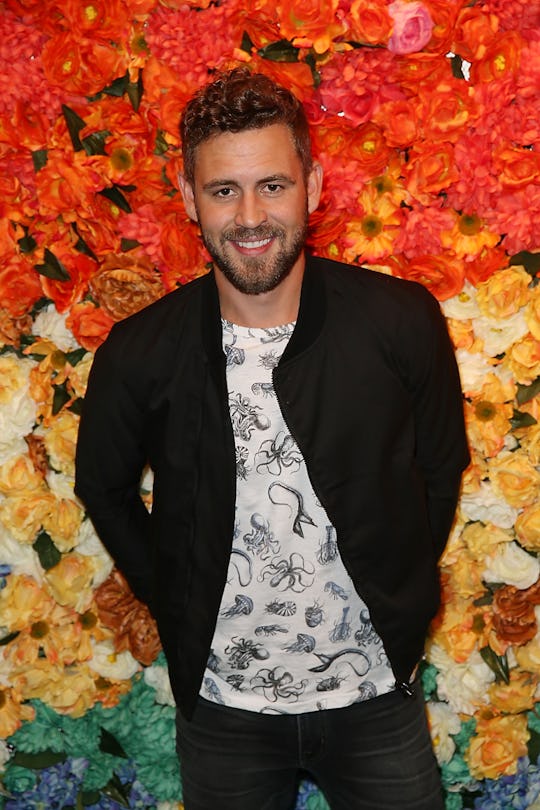 Joe Scarnici/Getty Images Entertainment/Getty Images
What Is Nick Viall's Net Worth On 'Bachelor In Paradise'? He's Building A New Career
Nick Viall came close to the final rose twice on The Bachelorette and lost out both times, but this season's Bachelor in Paradise is giving him a chance to dust himself off and try again. Three stints on reality TV definitely makes it seem like a career is forming, but Nick had another job before he ventured into the world of The Bachelorette. He's found success with both, but just how well has his career change served him? What is Nick Viall's net worth?
Nick's net worth is estimated to be around $150k as of last year. Before his turn as a professional Bachelorette suitor, Nick was a software sales executive for the company SalesForce and it doesn't look like he's returned to that since his reality television career took off. Though both paths have bolstered his net worth, quasi-celebrity success certainly comes with a lot more perks, though not all of them are monetary. While the contestants are reportedly not paid for their time on the show, the exposure can spin them off into lots of other opportunities, especially if they win – or at least get very close to it, in Nick's case. However, it's probably for the best that he has a decent job to fall back on if he needs to.
GlassDoor lists the average salary of a software sales executive at around $55k, though that number is obviously dependent upon the company, the person, and their experience; consider it a ballpark figure. Nick's job with SalesForce involved creating relationships with customers and it's hard to know just how much he made per year, but he was probably making a decent salary. An article for Business Insider claims that for another, well-paying tech company called Oracle, sales workers could earn up to $400k a year.
Though Nick didn't see much compensation for his time on The Bachelorette, Bachelor in Paradise will earn him more money. Reality Steve reported that contestants on BiP were paid between $7k and $15k to appear on the show, though not everyone was paid the same amount. Then there are other appearance fees (to show up at clubs or events) and sponsorships, all of which have earning potential. Social media can be monetized as well, which is something Nick mentioned during an interview for Bustle so it's obviously something he knows how to take advantage of. He's not bad at it either; for example, take this picture of a cute puppy that is simultaneously shelling for Dyson. Caption: "While everyone's lungs were filled with dust from Coachella, We are breathing nothing but clean air thanks to @dyson #CleanEverywhere." Well played.
While jobs in entertainment are a lot less secure than a regular job for a company, there's no denying they're probably more fun. When it comes down to choosing between sitting at a desk all day and taking dog pictures, the choice sounds pretty easy to make.