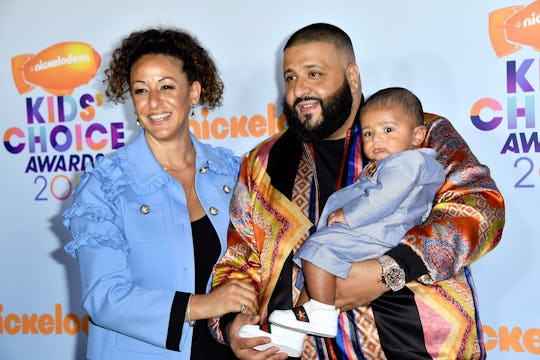 Frazer Harrison/Getty Images Entertainment/Getty Images
Nicole Tuck Is A Busy Woman & Loving Mother
Unless you've been sleeping under a rock (or, ya know, just a bit preoccupied with all the political hellfire we're currently immersed in), DJ Khaled and his adorable family have been taking over the world, it seems. Khaled, his fiancée, Nicole Tuck, and their son, Asahd, are seriously the most perfect little trio. And while many have been distracted by Asahd's own Instagram account (yes, a baby has an Instagram account, feel old yet?), Khaled's fiancée has also been pretty busy lately. So, what is Nicole Tuck's job? She really is a woman of many talents.
While a quick Google search will prompt the answer that Tuck is merely a businessperson, in truth she's done a little bit of everything. From a clothing line, philanthropic outreach, and becoming a new mom, Nicole Tuck is much more than just "DJ Khaled's fiancée," and she deserves to be treated as such. Not only has Tuck remained steadily by Khaled's side for years now, she's also fiercely loyal to her family and highly educated, with a graduate degree from Fordham University in New York City. Seriously, Tuck is pretty amazing, and since she's basically superwoman, it makes sense that the new family is as happy as can be.
According to the International Business Times, Tuck also started her own clothing line, called ABU Apparel, and that specialized in ""post-modern streetwear for Independent, fashion-forward individuals," according to her LinkedIn profile. Fame Bible reported that ABU Apparel was no longer operating."
In addition to her business ventures, Tuck has also participated in events with and volunteered for charity. She regularly posts to her Instagram about the causes she's most passionate about, including Hope For Harvest, with which she's volunteered several times. The event seeks to raise money to provide for the youth of Charlotte, North Carolina.
But now, Tuck is a mom, which is a whole new job role in and of itself. After all, she just gave birth to little Asahd on Oct. 23, 2016, and as any new mom knows, those first few months are intense, crucial, and important for mother-child bonding. So, it makes sense that now, Tuck has taken a step back from her business ventures. However, the International Business Times also speculated that Tuck was an unofficial representative and manager for her music producer fiancée, so it may be that she's working from home a little bit more these days.
Whatever she does, though, Tuck is probably at the top of her field. After all, she's not even 40 yet, and she's already done so much that she'll no doubt conquer many more feats in life. Whatever else she chooses to do, it's pretty obvious that the Tuck-Khaled family have completely mastered the keys to success.