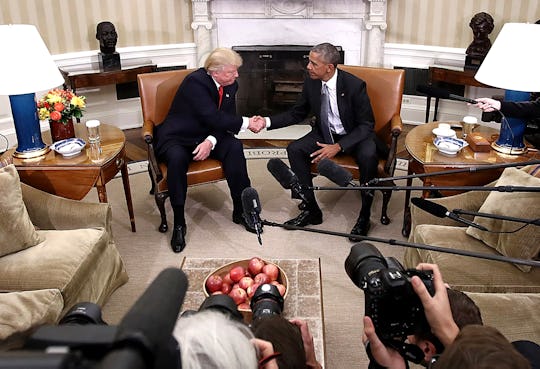 Win McNamee/Getty Images News/Getty Images
Obama Dismantles NSEERS Ahead Of Trump Presidency
On Thursday, the Department of Homeland Security announced that the National Security Entry-Exit Registration System (NSEERS) program had been dismantled. The program predominantly targeted Arabs and Muslims for almost a decade, and some are wondering if the Obama administration's decision to end the program has to do with president-elect Donald Trump's calls to ban Muslim immigration. So what is NSEERS, and why is it being dismantled, really?
NSEERS was a registration program for non-citizen visa holders. President George W. Bush established the program in 2002. Guests from certain countries were required to register with NSEERS, because they were seen as security threats. They were required to take part in additional inspections, which involved fingerprinting and an interrogation. They also had to keep in touch with immigration officials while in the country. The program was also supposed to ensure non-citizens left the United States to keep them from living in the country illegally.
The non-citizens who were made to register with NSEERS were males from 25 countries — 24 of which had a Muslim or Arab majority. Many were students, on business trips, or were visiting family.
The program was established to thwart terrorism, Kansas Secretary of State — and former Dept. of Justice Counsel — Kris Kobach said in 2003:
We had a situation where terrorists had been able to enter the country absolutely undetected; where they were able to operate on our soil unhindered; they had no obligation to make further contact with federal law enforcement for any reason
The program was supposed to be "temporary," and has not been used since 2011.
Trump transition team member Kellyanne Conway said that Trump's stance on tighter screenings, or potential immigration bans, will not focus on targeting specific religions but rather specific countries, she said in an interview on CNN — which sounds a lot like what NSEERS already did. Transition team officials did not immediately respond to Romper's request for comment.
Politicians, including New York State Attorney General Eric Schneiderman, have called on President Obama to get rid of NSEERS out of fear of what may happen if the program remains in effect going into Trump's administration.
"We can't risk giving president-elect Trump the tools to create an unconstitutional religious registry," Schneiderman said, according to CNN.
The Department of Homeland Security has not said that the decision to end the program was to stop discrimination against Muslims, or because of Trump's comments regarding banning Muslim immigrants. Rather, a DHS spokesperson said NSEERS is being dismantled because it is "redundant."
"DHS ceased use of NSEERS more than five years ago, after it was determined the program was redundant, inefficient and provided no increase in security," DHS spokesperson Neema Hakim told Buzzfeed.
The program never successfully stopped a single terrorist act, CNN reported.
The American-Arab Anti Discrimination Committee, which fought against the NSEERS program when it was in effect, applauded the decision in a press statement:
This is the right decision by Secretary Johnson. We commend him, and the White House, for letting it be known that such registry programs are futile and have no place in our country. However the community cannot be at ease; the next administration has indicated that they will consider implementing similar programs.
The Arab-American Anti Discrimination Committee's concerns may not be totally unfounded. A former member of the Immigration Legislation Task Force said it would be easy for Trump to implement a new registry program similar to NSEERS.
"It's just takes a new notice [from the DHS secretary] and a new list of countries," Theresa Cardinal Brown told BuzzFeed.
Still, the fact that Obama has left Trump without the matches to start such a fire is extremely important.