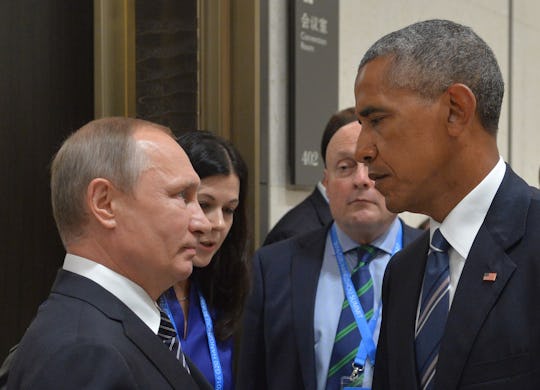 ALEXEI DRUZHININ/AFP/Getty Images
Obama & Putin Are Not Close, Unlike Putin & Trump
Since Vladimir Putin's re-election in 2012 to Russia's presidency, tensions have been quickly ratcheted up between him and his American counterpart. What is Obama's relationship with Putin? The two leaders have a true distaste for one another. "The personal relationship is very bad," Matthew Rojansky the director of the institute on Russia at the Woodrow Wilson International Center for Scholars told NPR in 2013. "There's no sugarcoating that, even though both have tried."
At the time Putin had written an op-ed in The New York Times lecturing President Obama on how he should handle the conflict in Syria. The article was widely viewed as an insult, NPR reported.
Just months before, Russia offered asylum to National Security Agency contractor-turned whistle blower Edward Snowden to protect him from conviction by the Obama Administration for releasing classified information to the public.
Since then, things between the two have devolved from what could be characterized as chilly to downright frosty.
The situation in Syria devolved into a human rights catastrophe as a result of Russia's support of Syrian dictator Bashar al-Assad's effort to crush an uprising that became a full-blown civil war. Last September, Obama and Putin met face-to-face to discuss the Syrian conflict during the G20 summit in Hangzou, China, according to the Telegraph, but no agreement was reached. "Given the gaps of trust that exist, that's a tough negotiation," Obama said about negotiations with Putin, according to the Telegraph. "We haven't yet closed the gaps."
Obama also used the meeting to warn Putin about using cyber security with the threat that the U.S. has "more capacity than anybody, both offensively and defensively," according to the Telegraph.
That warning was dismissed by Putin.
NBC News reported as the election drew closer and more evidence linking Russia to stolen emails being released by Wikileaks, Obama used the infamous red phone to send Putin another, far more serious, warning against Russian hacking to influence American elections. "International law, including the law for armed conflict, applies to actions in cyberspace," the message sent over the Red Phone on Oct. 31 said, according to NBC News. "We will hold Russia to those standards."
Just about a week ago, NBC News reported that Putin personally directed hacks into servers of Democratic political institutions and released the stolen information in an attempt to elect Donald Trump, who is most certainly not Obama's successor of choice to the Oval Office.
One CIA official told NBC News the Obama Administration might take the opportunity to retaliate against not just Russia, but Putin personally, before Trump takes office on Jan. 20.
"This whole thing has heated up so much," The CIA official told NBC. "I can very easily see them saying, 'We can't just say wow, this was terrible and there's nothing we can do.'"
As Obama leaves office, Putin's personal selection for the White House, Donald Trump, has signaled he wants a far warmer relationship with Putin, despite Russia's undermining trust in American democracy. Putin praised Trump in his annual press conference Friday, saying Trump has his "finger on the pulse of the mood of society," according to Bloomberg. "He went all the way, even though no one believed that he would win, apart from you and me," Putin said to cheers.
Later on Friday, Trump said in a statement he received a "very nice" Christmas letter from Putin, according to CNN. In the letter, Putin said he wanted Trump to "to take real steps to restore the framework of bilateral cooperation," CNN reported.
Trump shared the letter which he called, "A very nice letter from Vladimir Putin; his thoughts are so correct," Trump said in a statement, according to CNN. "I hope both sides are able to live up to these thoughts, and we do not have to travel an alternate path."
There's no word on whether Obama and Putin swapped Christmas cards, but it's pretty doubtful. Putin might want to change his email passwords though.