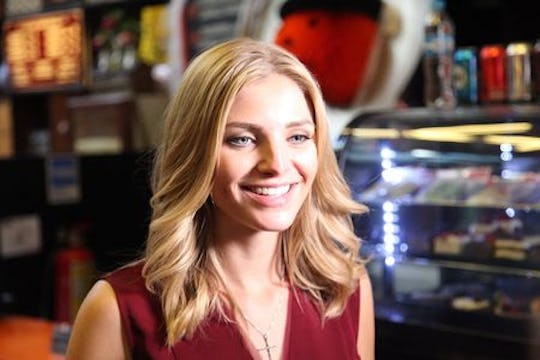 ABC/Eniac Martinez
What Is Olivia Caridi Doing Now? The 'Bachelor' Contestant Has A Very Bright Future
On The Bachelor, contestant Olivia Caridi is known best for both wooing Ben Higgins and stirring up controversy with the other ladies. But when she's not vying for a rose, Caridi is building her career. So what exactly is Olivia Caridi doing now? It appears as though she's planning her next move in broadcast journalism.
Caridi is known for her determination on The Bachelor, a personality trait that probably serves her well as a journalist. Though it's unclear whether she's currently employed in television, she's spent the past several years racking up experience in front of the camera, as a news reporter. Her most recent job listed on LinkedIn is as a Weekend Anchor/Weekday Reporter for WCYB-TV/WEMT-TV in Bristol, Virginia, where she was in charge of everything from promoting web content to serving as the newsroom lead on weekends. Caridi worked there from May 2014 to August 2015 in what appears to have been her first major post-college job. Prior to joining the WCYB-TV/WEMT-TV team, Caridi interned at WFAA-TV in Dallas, Texas and at Fox Sports Southwest in Irving, Texas.
Over on her personal blog, Caridi works as something of an inspirational mentor, sharing internship tips for aspiring journalist who want to follow her footsteps into the news industry:
It's important to shadow the jobs that you want to know if you really want to be a reporter or an anchor or a photographer. Plus, you'll get the best footage for your demo reel out of your internships. So when you're working, ask the photographer to shoot a standup or two for you or even shoot a look-live. Ask the anchors if you can take their scripts once they are done and read over them at night!
Caridi certainly took a focused approach to earning her place in the spotlight. As a student at Texas Christian University, she served as the Director of TCU News Now and worked as Executive Editor of TCU360. That meant balancing team management with content generation to ensure hourly updates. Caridi wrote on her blog that despite the stress, the experience was invaluable. "The hours were rough and I missed out on many social opportunities, but there's nothing better than taking a leadership position and making friends within your department," she said. "Any experience is good experience."
On The Bachelor, Caridi is known for her no-holds-barred approach to winning Higgins' heart. It may not earn her many friends among fellow contestants, but her moxie certainly seems to set her up for career success in the real world. Making it in the media is definitely a challenge. But in a blog post titled "A Passion for People," Caridi wrote that she takes storytelling and news reporting very seriously — which could definitely help her win some coveted news gigs going forward. "Being able to share the news for a living is a valuable gift," she said. "Ultimately, it has shown me that a community begins with the strength, the belief and the generosity of one individual."
For now, Caridi's Instagram suggests that she's taking a break from onscreen life for a bit of traveling in Hawaii. Her biography on ABC's website revealed that Caridi prefers cold weather to hot, but it certainly looks as though she's enjoying a bit of sunny outdoor exploration. It's probably a delightful break from full-on immersion in the Bachelor frenzy.