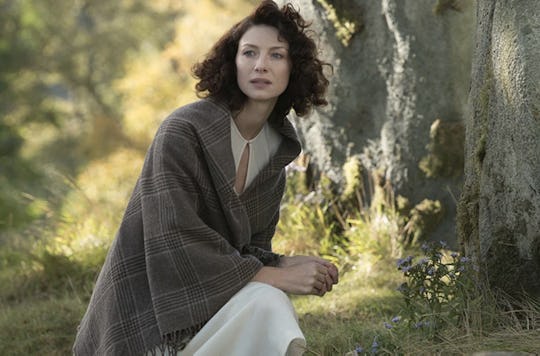 What Is 'Outlander' About? The Starz Show Has Fans Seriously Singing Its Praises
A trip back through time. World War II. Sex. A mangled, addictive love triangle. Demons. Hard-to-pronounce names. No, I'm not talking about Game of Thrones, but I am talking about STARZ delicious Outlander series. Never seen it before? Then yeah, sure, I bet you've got a few questions, chief among them: what is STARZ Network TV series Outlander about anyway? The 16-episode series, which is currently airing its second season, follows Claire Randall, played by Caitriona Balfe (who stars in the upcoming Jodie Foster directed thriller, Money Monster), a World War II combat nurse. One day, she mysteriously time travels back to 1743 to Scotland, where her life is in danger (first a field nurse and then in mortal danger? Can this girl catch a break?). Before Claire knows it, she's forced to marry Jamie Fraser, a stud of a Scottish warrior played by Sam Heughan, who sweeps Claire off her feet (to save her life, and for some 18 century bodice-ripping, natch) and they begin a passionate life together. Sounds perfect, right? Right?
Good, because there's one — big — catch: Claire Randall is already married in her other life that takes place in 1945. #SciFiProblems.
The STARZ series is based off Diana Gabaldon's Outlander series, first published in 1991, which at the time iconically bridge the two genres of romance and science fiction with great success. Creator of the mega-hit Battlestar Galactica, Ronald D. Moore, is spearheading the television adaptation of Outlander, and to date, he's been pretty considerate about adhering closely to the plot lines and characters in the book. Fans of the Outlander, including Moore's wife, Terry Dresbach (who's a costume designer on the show), are happy with this decision. According to Vulture, Moore is scripting Outlander targeting a female audience in mind. So could this be the feminist version of Game of Thrones? Sorta.
OK, maybe that's a stretch, but there are similar elements. In the same Vulture interview, Moore reported that his wife will be the first to tell him if he's gotten something wrong. Moore confessed to Vulture, "She's already said, I don't think you should have done this that way.'" For that, we can all breathe a sigh of relief: Keeping the story close to its book roots will ensure fans of the novels tune in, which is a huge selling point when you're trying to get a show off the ground, especially in the early seasons.
So far, seems like fans of the OG Outlander may have nothing to worry about.
Moore intends to be true to Claire's adventures and how they unfold in Gabaldon's pages.
Says Moore:
The book is our bible, and we try to just stick with it. Our job is to realize this material. I've never seen [it being] my job to make my version of Outlander.
As for what will happen the rest of the season, we'll just have to tune in to find out. Not only is a passionate romance brewing, with all kinds of twists and turns, but Scotland's future is at stake.
Images: STARZ