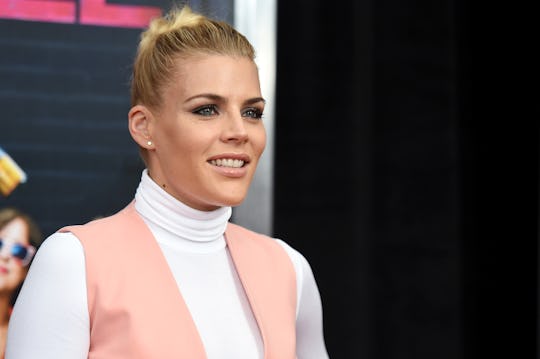 Jamie McCarthy/Getty Images Entertainment/Getty Images
Busy Philipps Speaks Out About Ovarian Torsion In A Post All Women Should See
On Saturday, Busy Philipps checked herself into Mass General Hospital in Boston, Massachusetts, due to intense pain in her lower right abdomen. According to Refinery29, Philipps was diagnosed with a condition called ovarian torsion, and her PSA about the medical problem should be taken very seriously. So, what is ovarian torsion?
According to the Mayo Clinic, ovarian torsion is when an ovary becomes "twisted." This incredibly painful condition (seriously, this sounds awful) can be caused by a variety triggers, including ovarian cysts, fertility medication, and hemorrhaging, according to E Medicine. Women in their child-bearing years and women who have undergone fertility treatments are the most susceptible to ovarian torsion. In short, if your ovary is enlarged, you're at risk for this condition.
Although it's unclear what caused Philipps' case of ovarian torsion, her symptoms weren't difficult to diagnose. According to People, Philipps felt "excruciating pain" in her right abdomen, a symptom that about 25 percent of patients experience with this condition, according to E Medicine. Philipps said of her pain, according to ET Online:
I had a crazy excruciating pain in my lower right side and after a long time at Mass Gen, it was determined my ovary had flipped over- it's called torsion.
If a flipped ovary doesn't sound bad enough, it's also possible to lose an ovary with this condition if its left untreated for more than 24 hours due to restricted blood flow. In Philipps' Instagram post about the medical scare, she urged women to go to the hospital if they're experiencing similar symptoms. Philipps' PSA is an important one, especially since women are often led to believe that their pain is imagined or not serious enough for hospitalization.
Philipps wrote, according to the Daily Mail:
Last night ended super weird. But if you listen to my podcast, you know our advice is always, don't be a hero, go to the doctor. Anyway, I had a crazy excruciating pain in my lower right side and after a long time at Mass Gen, it was determined my ovary had flipped over- it's called torsion. Mine flipped back by itself and I'm ok but sometimes if it doesn't you have to get surgery or you can lose your ovary(which actually happened to a really good friend of mine) Anyway, my point of posting this was I felt like an idiot for going to the hospital but ultimately, going was the right move! It always is! Even if they say you're fine and send you on your way! And a huge thank you to the amazing doctors and nurses who took care of me! ❤️❤️❤️
Philipps' recommendation to address concerning pain immediately is a sentiment many other sufferers of ovarian torsion share. Christy Collins, an aspiring physical therapist, wrote about losing her ovary due to ovarian torsion in her blog, Sunlight in Winter:
I had simply never even heard of this before. It's hard for me to tell this story, but I wanted to put this information out there in case it can help someone else. If you ever have extreme or unusual abdominal pain, just go to the hospital. Don't wait it out like I did because you think it could be nothing, or because you don't want to pay your high insurance deductible. Just go. Insurance costs be damned. At least you might be able to keep more of your internal organs.
As for how you can prevent ovarian torsion before the worst case scenario, doctors recommend light exercise for women who are on fertility treatments. Mira Aubuchon, an OB-GYN and fertility specialist with the Missouri Center for Reproductive Medicine, said, according to Prevention:
I usually counsel women to keep exercising but to avoid workouts that involve jumping or bouncing.
In addition, it's important to keep an eye on all ovarian cysts.
Although it's unfortunate Philipps had to experience ovarian torsion, the positive here is that she was able to shed more light on this scary condition. Philipps' PSA is an important reminder that pain shouldn't be ignored and that all women should take their health seriously.