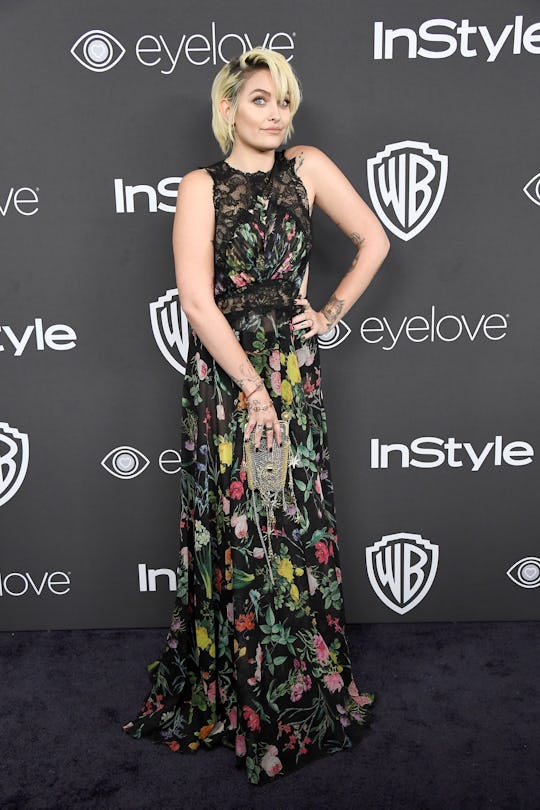 Frazer Harrison/Getty Images Entertainment/Getty Images
Paris Jackson Is All Grown Up
It's hard to believe that the same little girl who got up and accepted her father's Lifetime Achievement Grammy Award back in 2010 is the mature woman standing before us these days. (I feel very old all of the sudden.) Yet after seeing her at the 2017 Grammys, there's no denying just how much of an adult she now truly is. So what is Paris Jackson doing now, you may ask? Based on her red carpet conversation with Ryan Seacrest, she's keeping pretty busy these days.
Jackson, who was a presenter at the Grammys Sunday evening, chatted with Seacrest about how she was feeling back when she accepted her father's award all those years ago. She, like the rest of us, was just trying to make eye contact with Beyoncé the whole time (same), but then the conversation quickly steered toward her own music plans in the future. "I'm not sure yet," she told Seacrest. "I haven't decided what I'm going to do." At least when it comes to the music industry that is. Apart from that, Jackson is actually gearing up to make her very first acting debut on FOX's brand new hit series Star later this year. And based on the way she was talking, she's extremely excited for this new endeavor and had a great time working with the cast and crew.
"I'm very excited about it," she revealed. "The cast was amazing. Just the director and the writers, they're all fantastic." So maybe we'll end up seeing more of her on the small screen if this proves to be something she has a real passion for.
Meanwhile, she also informed Seacrest that, later that evening, she would be wearing a Jeremy Scott dress that she actually helped him design. So it seems as though she's also dipping her toes in the fashion industry as well. Basically, the world is her oyster right now and there's an endless array of options at her disposal. Though I think it's safe to say that she has her father's passion for the arts, whether it be specifically in the realm of music or not.
Jackson has also been there for her mother Debbie Rowe, who has been going through chemotherapy after being diagnosed with breast cancer last July. As you can see from her Instagram, she's been giving her mom a lot of support during these trying times and basically being the best daughter ever.
So regardless of what she ends up doing with her career, I think it's safe to say she's going to take the world by storm and impress us all. Wherever Michael is, I know he must be very proud.