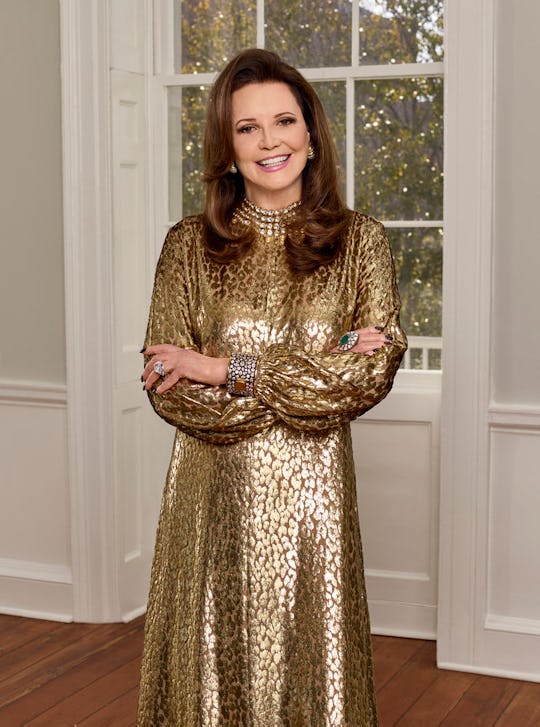 Rodolfo Martinez / Bravo
'Southern Charm' Star Patricia's Fiance Is A Mystery
Season 5 of Southern Charm is well under way, and the one shocker fans got at the beginning of the season was the announcement of Patricia Altschul's engagement. She has been super secretive about her beau, but the 'promise ring' on her finger indicates that he's pretty well off. So, exactly what is Patricia Altschul's fiancé's job and what else has she revealed about him?
As of now, Patricia has been very vague about the details surrounding her relationship. She hasn't even dropped his name, referring to him only as "Mr. C." And there's no way to know whether he will reveal himself on the show. However, in a recent episode of the Southern Charm After Show, Patricia's son, Whitney Sudler-Smith, revealed some vague details about his mom's fiancé's employment. "Mom's mystery gentlemen is an established person who works in finance and he wants to save the earth," he said.
In the same clip, Patricia's fellow Southern Charm stars Shep Rose and Cameran Eubanks speculated that she has known the man for quite some time, and that they probably even lived close to one another at some point before their relationship began. Cameran hinted, "I think they used to live near each other in New York. He's freakin' loaded. He ain't a spring chicken!"
But why is there so much secrecy surrounding Mr. C's identity? In a recent episode of Southern Charm After Show Patricia explained that her man doesn't really enjoy being in the public eye. She said, "There are certain men in society who hold extremely responsible jobs. They do not seek the limelight — in fact, they shun it. My beau is one of those."
Patricia is no stranger to engagement rings or proposals. In her memoir, she revealed that she has had four engagement rings in the past, and has been married three times, first to Whitney's dad Lon Smith, then to Edward Fleming, and then to Arthur Altschul who passed away in 2002. Her new beau must be pretty well-to-do, because the diamond on her promise ring is bigger than her finger, and apparently, that's exactly what she needed. On the same Southern Charm After Show episode Patricia noted, "I'm a big girl, so I need a big diamond." She added, "And there was no ceremony. It was simply delivered to me."
But Patricia has a lot more going on than an engagement and Southern Charm. She got her start as a socialite as an art dealer and now runs her own successful caftan design company called Patricia's Couture, which features caftans, scarves, pajamas, and throw pillows with prints of her dog's face on them. Patricia is a real catch and she knows it. She even went so far as to joke on the show that her promise ring, which is roughly the same size as the planet Jupiter "could be bigger." She also quipped that, "nobody in this group, apparently, is marriage material but me."
As of now, the only details Patricia and her family are giving fans about her fiancé are that he's well established, wants to save the world, and works in finance. To be honest, to me this person sounds more like Bruce Wayne than a normal guy who wants to marry Patricia. Maybe that's why he wants his identity to be kept a secret. Perhaps one day Patricia will reveal the man behind the mask — or maybe not. I guess you'll just have to wait and keep watching Southern Charm to find out. The show airs Thursdays at 9 p.m. Eastern time on Bravo and Southern Charm After Show is posted at 10 p.m. Eastern time every Thursday on BravoTV.com.