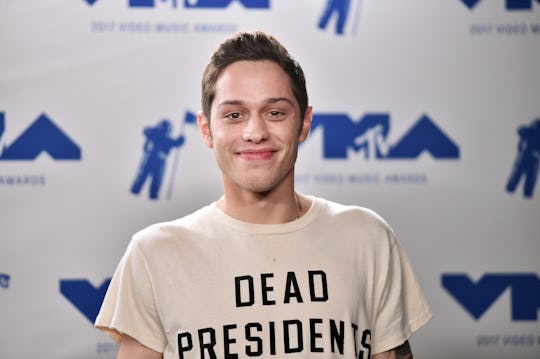 Alberto E. Rodriguez/Getty Images Entertainment/Getty Images
Pete Davidson's Net Worth Is Higher Than You Might Think
Outside of his work with Saturday Night Live, 24-year-old Pete Davidson hasn't really been on the radar of celebrity gossip news — at least not in comparison to his reported fiancée, Ariana Grande. Sure, at age 20, the young comedian became one of the youngest SNL cast members to date. And he's made headlines in recent years for opening up about his struggles with borderline personality disorder. But now that Davidson has reportedly put a ring on it — and a giant one, at that — everyone wants to know everything about Grande's main man. Such as: What is Pete Davidson's net worth? The SNL star has more wealth than you might think.
To start, it's worth acknowledging that Davidson is only 24. So by most 24-year-old's standards, it's safe to assume he's probably fairly well-off. In reality, Davidson's net worth is approximately $500,000, CelebrityNetworth.com reported. Not too shabby, right? Except, when you look at Ariana Grande's estimated net worth of $45 million, according to CelebrityNetworth.com. Then it becomes pretty clear that Grande would be significantly "marrying down" in this case. Which isn't a bad thing, by any means; I'm just trying to establish where they're both coming from.
Now that we have an idea of Davidson's net worth, let's talk about that reported engagement ring Grande has been wearing. As TMZ reported, the SNL star apparently dropped almost $100 grand on Grande's engagement ring. The sparkler — a VVS1 clarity diamond set in platinum — reportedly set Davidson back $93,000, according to sources close to the couple. It was commissioned by New York City jeweler, Greg Yuna, and apparently took two weeks to make, TMZ reported. Now think back to Davidson's net worth and do the math. Did he seriously spend nearly 20 percent of his net worth on Grande's engagement ring?
Holy. Sh*t.
What makes this particularly concerning for Grande fans, especially, is the fact that they've only been dating a short period of time. Both of them recently ended long-term relationships in May, shortly before they started dating, People reported. Since then, however, both Davidson and Grande have been publicly showering each other with affection via social media, the publication reported. Reports of the couple's engagement starting swirling on Monday, and although neither has officially confirmed the news, the huge ring on "that finger" seems to speak for itself.
Grande fans have expressed their skepticism about her new relationship, even before the reported engagement. But now that Grande is sporting a ring, fans seem to have upped the cynicism. "I've had water bottles in my room longer than Ariana Grande and Pete Davidson's relationship," one person tweeted.
"I have yet to do a load of laundry during Ariana Grande and Pete Davidson's relationship," another Witter user wrote.
Others were a little more self-depreciating. "Ariana grande got engaged to pete davidson after dating for a few weeks and I can't even get a text back," yet another person tweeted. LOL. Awww.
Some fans have also expressed concern about the role Davidson's borderline personality disorder (BPD) might play in their relationship. In case you're not familiar with the condition, the National Institute of Mental health describes BPD as:
A mental illness marked by an ongoing pattern of varying moods, self-image, and behavior. These symptoms often result in impulsive actions and problems in relationships. People with borderline personality disorder may experience intense episodes of anger, depression, and anxiety that can last from a few hours to days.
One Twitter user pointed out, "Not to shed any negative light but Pete Davidson suffers from borderline personality disorder and isn't one of the manifestations impulsivity? They should really think about this one month engagement."
Another person tweeted, "Please no one take this the wrong way but Pete Davidson is open about his Borderline Personality Disorder. They just started dating a month ago: it's common 4 Borderlines to dangerously rush into obsessive commitments. Hope someone is watching out for them."
Yet another Twitter user wrote, "So Pete Davidson has Bipolar and Borderline Personality Disorder. And Ariana right now has PTSD due to the shit in Manchester. You want a case of mania, this is it."
Back in May, the SNL cast member took to Instagram Stories to open up about his struggles with mental health — and he set the record straight about this very topic, The Cut reported. "Normally, I wouldn't comment on something like this cause fuck you," he wrote at the time, Rolling Stone reported. "But I been hearing a lot of 'people with bpd can't be in relationships' talk. I just wanna let you know that's not true." He continued:
Just because someone has a mental illness does not mean they can't be happy and in a relationship. It also doesn't mean that person makes the relationship toxic. Everybody is different and there are a lot of treatments for mental illnesses and I have done/am doing all of them … I just think it's fucked up to stigmatize people as crazy and say that they are unable to do stuff that anyone can do.
Regardless of Davidson's net worth, how much money he reportedly spent on Grande's engagement ring, or how quickly their relationship has progressed so far, it's difficult to argue that Grande's fans don't have the singer's best interests at heart. However, the couple is clearly smitten for each other. In no way do they owe anyone an explanation for their relationship — and in no way does mental illness delegitimize their love. So can we maybe just settle down and let them live their lives?