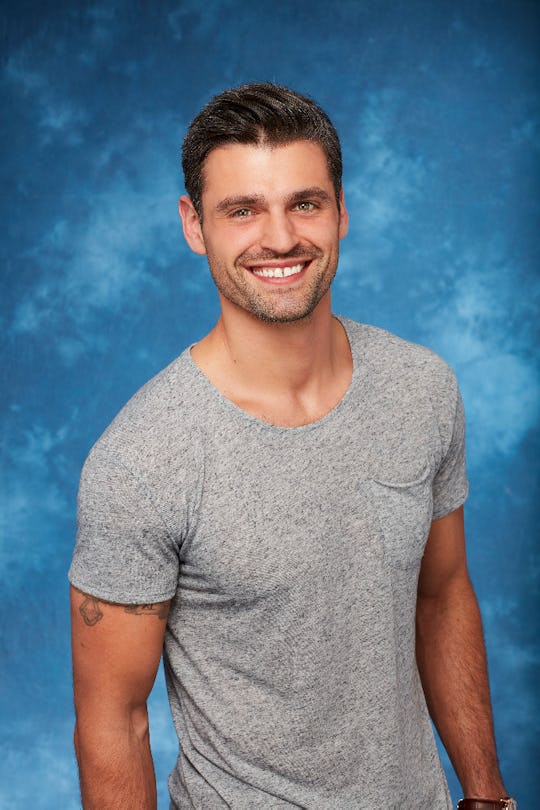 Craig Sjodin/ABC
Peter From 'The Bachelorette' Has An Impressive Career
On any given Bachelor Nation season, a handful of contestants typically emerge very quickly as frontrunners. Rachel Lindsay's season is no different. The affable Dallas attorney made connections with several of her guys in the premiere, even sharing a steamy first kiss with Bryan Abasolo, who also won the first impression rose. But Bryan wasn't the only contestant who had sparks with Rachel — she also hit it off with Bachelorette contestant Peter Kraus. So far, the only thing we know for sure is that he's from Wisconsin, like her ex Nick Viall (he mentioned it at least twice), but what is Peter's job back in Wisconsin?
In his Bachelorette bio for ABC, Peter lists his profession as business owner. His Instagram bio is a little bit more specific — he's the owner of Worth Personal Training, a Madison, Wisconsin-based in-home and on location personal training and bootcamp service. The company's tagline is, perhaps unsurprisingly, "Because you are WORTH it!"
According to his LinkedIn profile, Peter has been a personal trainer for nearly eight years, dating back to September 2009. Aside from his personal training through Worth, he was also a personal trainer at I.D. Gym and a Fitness Manager at Fitness Management Group. As far as his education goes, it's health/fitness related as well — he's got an Associate's degree in Dietetics from Madison Area Technical College.
Beyond his lengthy career in personal training, it appears that Peter has also dabbled in modeling. (Not too surprising, given that physical fitness/being extremely hot tends to go hand-in-hand with working as a professional model.) He recently posted a few behind-the-scenes photos from a menswear shoot, so it seems like the modeling career is something that he's actively working on pursuing. He certainly seems to have the model pose down no matter where he is or what he's doing.
Viewers have a tendency to become immediately suspicious whenever it's revealed that a contestant is either a model or an actor. Pretty much any career in the entertainment industry seems like a red flag that they might be there for "the wrong reasons." But Peter genuinely seemed smitten with Rachel, so unless he's also secretly an actor, I buy the fact that he's into her. And evidently, Rachel buys it too — he was the first name called out in the rose ceremony.
In my mind, that puts Peter and Bryan at the top of the pack this season. For what it's worth, he was also Jimmy Kimmel's pick for the season's winner, and Kimmel tends to have a pretty solid track record when it comes to choosing Bachelor and Bachelorette winners.