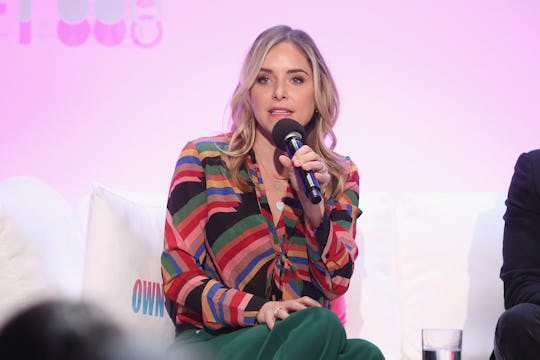 Cindy Ord/Getty Images Entertainment/Getty Images
Pregnant Actress Jenny Mollen Has Placenta Previa
All pregnancies are different. Any seasoned mother will tell you that no two pregnancies, or children, are the same and to expect the unexpected. Actress Jenny Mollen, who is mother to son Sid with actor Jason Biggs, is currently pregnant with her second child, but already experiencing different things from her first. And on Thursday, Mollen revealed on Instagram that she currently has placenta previa. But those who are fans of the very funny Mollen are probably wondering what is placenta previa, and if they should be concerned for the expecting mother.
Luckily, Mollen and fans will have nothing to worry about, although her second pregnancy might be just a bit more difficult. But the always hilarious Mollen had a great sense of humor, being honest about her pregnancy and the real things that go along with it. On Thursday, Mollen took to Instagram to share a photo of her naked bump, in the bathroom, with a caption that says it all. "Want to make out and talk about my placenta previa? #22weeks" Mollen stated. Yes, actually, let's talk all about that placenta previa — because surely someone out there who is concerned wants to know how expecting mothers get it and what happens when they do.
Placenta previa, according to the Mayo Clinic, is when a baby's placenta partially or completely covers a mother's cervix in the uterus (rather than attaching to the top or side of the uterus), which can cause "severe bleeding" during both pregnancy and delivery. Yeah, it sounds scary, especially when blood is the last thing that any expecting mother wants to see. Placenta previa can be caused by anything — like age, previous pregnancies, and the health of the mother. And unfortunately, according to the Mayo Clinic, there are no treatments to cure or prevent placenta previa, only manage the bleeding. Management involves expecting mothers refraining from strenuous activity getting rest, and potentially needing a C-section when it comes time to deliver the baby.
While placenta previa can be life threatening, according to Women's Health, women can still have a safe pregnancy and it could potentially resolve itself, especially if it is diagnosed around the 20 week mark (like Mollen). Mollen is not the only celebrity to suffer from placenta previa. Actress Tori Spelling was diagnosed with placenta previa when she was 20 weeks pregnant with her fourth child — and experienced some pretty scary sounding complications. Spelling, according to Us Weekly, spent 10 weeks in the hospital and four months on bed rest due to placenta previa.
This means that Mollen will be expecting a lot of rest and some not so pleasant symptoms during the next 20 weeks of her second pregnancy. But it is a great thing that Mollen has continued to have a sense of humor towards her serious pregnancy complication.