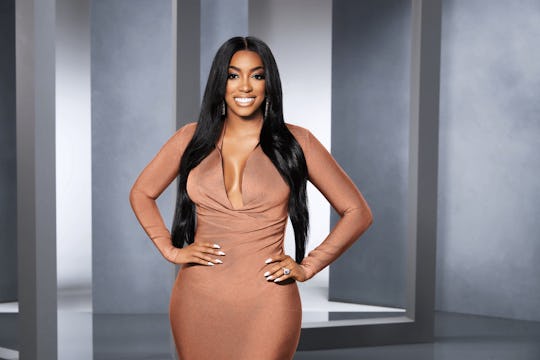 Alex Martinez/Bravo
Porsha Williams Has The Cutest Nickname For Her Baby
Real Housewives of Atlanta fans have been swimming in baby news lately, but one of the most exciting pregnancy announcements by far was Porsha Williams'. She's talked about wanting to become a mom for years, and now that she's expecting, fans want to be in the loop about everything. Luckily, Porsha has kept most of her pregnancy journey public, but fans are curious about one baby-specific detail — what is Porsha Williams naming her baby?
While Porsha hasn't officially decided on a name yet, she has been dropping hints. In an interview with People, she said that her fiance, Dennis was sold on the idea of naming their baby girl after her, but she wasn't sure about how well that would work. "One of the names that he has absolutely settled on — I'm not settled on it yet — is PJ [which] stands for Porsha Jr., he wants to name our daughter Porsha Jr.," she told the outlet. "I'm not really sure because I think she's going to be mad, like, 'Really, Mom?' And then I'm going to have to try to explain it and he's probably going to deny that it was all his idea."
But it looks like Dennis' suggestion stuck. While she hasn't confirmed the name officially, Porsha has been referring to her baby girl as "PJ" in all of her recent Instagram posts. In one post from last week, Porsha shared a video of her puppy, joking how spoiled she is, and predicting that her baby girl would be just as spoiled. "Lawd Baby PJ gone run this house too," she captioned the photo. "I'm moving Dennis, you got it."
PJ seems to be the baby's go-to name for now, but in an interview with E! News, Porsha revealed that she is considering other names as well. "My fiance wants to name her Porsha Jr. and I kind of like it," she told the outlet. "But I have two other names that start with a 'P' that I'm considering too, so we don't know yet." The reality star hasn't mentioned what those other names are yet, but she may just reveal them when her baby is born.
For Porsha, this pregnancy has been an emotional roller coaster, mostly because of her previous pregnancy struggles. When talking to People, the RHOA star revealed that she had been suffering from fibroids and experienced a miscarriage, so while this baby news brought her immense joy, it stoked some fear as well.
"When I found out I was pregnant, I was excited [but] I had mixed feelings — the other feeling that I had beside excitement was fear," she told People. "I've had a miscarriage before in my past, which I've also been open about because I suffer with fibroids and had to have a myomectomy, so just the fear of, 'Is the baby going to be okay? Will I make it full term?' All those questions that you ask if you've had a miscarriage before." Luckily, Porsha and her baby are doing well. On her Instagram page, she posted a recent video of her baby kicking around in her belly. "OMG finally caught her," she captioned the video. "Dancing to daddy snoring #BabyPJMoving."
What Porsha names her baby is yet to be seen, but when she introduces her bundle of joy to the world in the coming months, fans will finally know for sure.
Real Housewives of Atlanta airs new episodes on Sundays at 8 p.m. ET on Bravo.
This first-time mom wants to have a home birth, but is she ready? Watch how a doula supports a military mom who's determined to have a home birth in Episode One of Romper's Doula Diaries, Season Two, below. Visit Bustle Digital Group's YouTube page for the next three episodes, launching Mondays in December.