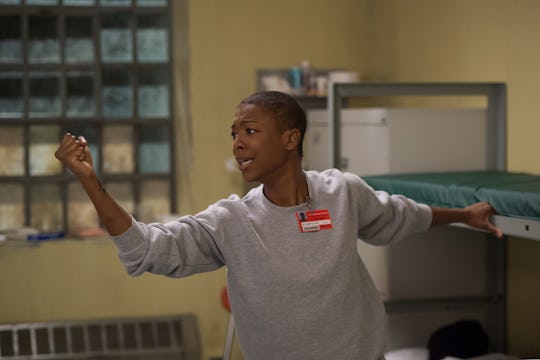 JoJo Whilden/Netflix
What Is Poussey's Backstory On 'Orange Is The New Black'? Fans Still Have Much To Learn
As Orange Is The New Black goes on, Poussey Washington continues to grow and gain depth, making her into a character who is incredibly easy to root for. Samira Wiley's acting is to thank for a large part of that as she navigates Poussey's emotional journey through anger and depression and pain without losing sight of Poussey's sense of humor or good heart. Though fans have learned more about her over the seasons, there are still some things they don't know. What is Poussey's backstory on Orange Is the New Black? Some of it has been explored, but there are still unknowns lurking in her past.
Named after a region in France where her father once served during his tenure as a major in the U.S. Army, Poussey had a fairly international coming of age. She grew up all over thanks to her dad's military career, but the only flashback viewers get to see of her life before Litchfield takes place in Germany. It was a place where Poussey seemed happy: she spoke the language, she went to parties, she had an awesome mohawk. She was also in love with a German girl, the daughter of a general. Unfortunately, things took a turn for Poussey when her girlfriend's father found out about their relationship.
He didn't approve of them being together – or of his daughter being interested in women – so he had Poussey's father reassigned in an effort to separate the girls. In her distress, Poussey attempted to pull a gun on him during a confrontation, but her father put a stop to it before it went any further. Fans still don't know exactly how Poussey ended up in prison, but it has been made clear time and again that she can let her emotions make her reckless.
Even Wiley has no idea what Poussey did to land her in jail, and she's not speculating. The nature of television means any theories she comes up with could be easily quashed, so it's better not to come up with any at all. All the show has revealed so far is that Poussey has six years to her sentence, with two already served by the time the series started. There was a hint that she might have been arrested for dealing pot, but nothing substantial has been confirmed.
Wiley does think that the incident in Germany was a big part of what sent Poussey on the road towards Litchfield. Wiley told Buzzfeed, "Moving around a lot when you're a kid, it is traumatic; but being 17 when you're like really starting to know who you are as a person and you've got someone who you're in love with, to have that ripped away, I just imagine that changed things for her and she probably went on a downward spiral after that."
Poussey has had a rough time of it in prison, just like any of the other women. Her mother died while she was behind bars. She was on the receiving end of more than a few vicious attacks. She struggled with her loneliness, and struggled not to rely too much on homemade hooch to cope. Hopefully the new season will allow her to find just a little bit of peace – and maybe someone to share it with.