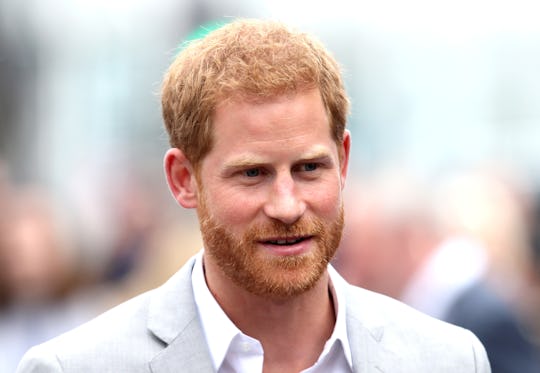 Chris Jackson/Getty Images Entertainment/Getty Images
How Prince Harry Proves He's A Virgo
Though some people think that they're basically a picture-perfect representation of the qualities and characteristics associated with their zodiac sign, others aren't so sure. Probably more likely than you'll fit exactly is that some characteristics will be spot-on, while others just don't seem to apply to you like they do others. Prince Harry (also known as The Duke of Sussex) seems to fit many of the qualities associated with his sign quite well, however. So what's Prince Harry's zodiac sign? Because his date of birth is September 15, that makes him a Virgo. And he pretty clearly fits in as a Virgo, at least, in several very big and important ways.
Virgos are service-oriented, loyal, and hardworking. Linda Joyce, an astrology and life coach, told Cosmopolitan that Prince Harry's life purpose is serving others, which not only makes sense because it's a huge part of his life as a member of the British royal family, but also because, as Joyce explained, Virgo is all about service. As he's grown older, Harry has taken on more and more charitable roles, and his wife, Meghan Markle, The Duchess of Sussex, has done so as well, particularly after the couple got married in May 2018, though she was also an active humanitarian before her relationship with Prince Harry. Plus, as astrologer and psychic medium Suzie Kerr Wright told Good Housekeeping, Virgos want to fix things and Leos, which is Meghan's sign, are supportive and uplifting. In that sense, they certainly seem to make a good pair.
Prince Harry spends much of his time working on behalf of his grandmother and the British royal family, performing various roles and duties in the public eye and promoting and working alongside various causes that are important to him. Though that's obviously not the job that most Virgos have, Virgos are kind and caring and extremely detail-oriented, which makes this kind of work just the sort of thing that a Virgo like Prince Harry might like.
Additionally, as astrologer Kathy Biehl told InStyle, Prince Harry acts as a sort of "grounding" force for his wife, which makes sense because Virgo is an Earth sign. Virgo, as an Earth sign, is also very connected and committed to their family, which likely isn't all that surprising in Prince Harry's case. Family is exceedingly important to him, as it is to many people born under Virgo, who tend to value family tradition, dedication, loyalty, and responsibility, all of which will likely continue to loom large in Prince Harry's life.
Virgos also tend to be practical, because, again, that particular Sun sign is an Earth sign, which can come in handy when you're someone who has to make decisions.
Prince Harry isn't the only member of the British royal family that was born a Virgo. Her Majesty the Queen's first cousin, Prince Richard, Duke of Gloucester, was born on August 26, 1944, which makes him a Virgo as well. Like Prince Harry, the Duke of Gloucester also works on behalf of the Queen and the royal family, performing certain duties and taking on a number of charitable endeavors intended to better the lives of others. As Virgos, both Prince Harry and his cousin, the Duke of Gloucester seem to be well-suited to their roles.
Though there might be parts of Prince Harry's character and personality that don't exactly fit what you might expect from a Virgo, it's still pretty clear that he aligns with the core of a Virgo's character quite well. From his work to his personality traits and even his relationships, there are a ton of little things that prove that Prince Harry truly does fit as a Virgo.