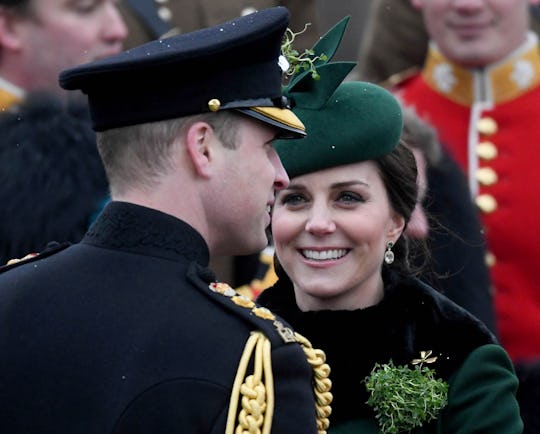 WPA Pool/Getty Images Entertainment/Getty Images
What Is Prince Louis' Official Title? HRH Is Not To Be Confused With Any Other Babies
On Monday, April 23, Kensington Palace announced the birth of Prince William and Kate Middleton's third child, a boy. I can't wait to learn everything about him, like the reaction from older siblings Prince George, 4, and Princess Charlotte, 3, and what their little personal style's going to be. But way before all of that, I want to make sure I know what the prince's official title is going to be.
Much like his brother, His Royal Highness Prince George of Cambridge, Prince Louis' official royal title will be His Royal Highness Prince Louis of Cambridge, which is just fancy enough, and will ensure he isn't confused with anyone else from Cambridge.
The palace made an announcement five days after the birth on Instagram, and also likely on a card in the gold name easel: "The Duke and Duchess of Cambridge are delighted to announce that they have named their son Louis Arthur Charles. The baby will be known as His Royal Highness Prince Louis of Cambridge."
Little Prince Louis needn't worry about becoming a king. The rules of succession are pretty complicated, although Queen Elizabeth II tried to modernize them back in 2011. Previously, a family member had to first ask her for her permission to get married (and then eventually have kids, right), and girls did not have the same succession rights as boys did. So, previously, a woman could only be queen if the king didn't have any sons, which was the queen's case back when she took the throne in 1952. In 2011, Queen Elizabeth II made it so that girls wouldn't be skipped over for their brothers.
Once 92-year-old Queen Elizabeth II dies or abdicates her throne, her son Prince Charles will take over for her, as People noted. Then when Prince Charles passes away or abdicates, Prince William will become king, since he's the oldest brother. If Prince William hadn't had children, Prince Harry would be next in line, as Newsweek noted, but that's not how it happened. So the two princes and princess of Cambridge will be the next ones in line for the crown.
After that, it jumps to Prince Harry, who's now sixth in line for the throne. But that's only if Prince William has no more children and his kids don't bear any heirs, which is kind of unlikely. Basically, Prince Harry definitely got out of ever having to become king, which is something he sort of wanted, as he once told Newsweek:
We are involved in modernizing the British monarchy. We are not doing this for ourselves but for the greater good of the people. Is there any one of the royal family who wants to be king or queen? I don't think so, but we will carry out our duties at the right time.
Prince Charles, his father, seemed to agree with him. A spokesperson for the palace told People, that the first in line for the throne "wants his son to have the chance of a family life before he takes up the burden of kingship — a King has no family life as it is so restricting." The spokesperson added that Prince William "doesn't want to be King before his father, no way," which could happen if Prince Charles gets sick and can't take over for Queen Elizabeth II by the time she passes away or abdicates (which she's reportedly thinking of doing when she turns 95 years old, according to Business Insider).
Queen Elizabeth II, as fans of The Crown know all too well, is very mindful of her duties and is already working hard to make sure that her heirs are ready to take over when they have to. The Daily Mail reported that a palace source said:
Out of the profound respect the Queen holds for the institution of monarchy and its stewardship, Her Majesty would want to make sure that she has done everything she can for her country and her people before she hands over. She is dutiful to her core. Her Majesty is mindful of her age and wants to make sure when the time comes, the transition of the Crown is seamless.
So the newest addition to the British Royal Family likely won't ever have to seamlessly take the throne from their father, Prince George, or Princess Charlotte. But it could happen. You never know, right?
Check out Romper's new video series, Bearing The Motherload, where disagreeing parents from different sides of an issue sit down with a mediator and talk about how to support (and not judge) each other's parenting perspectives. New episodes air Mondays on Facebook.