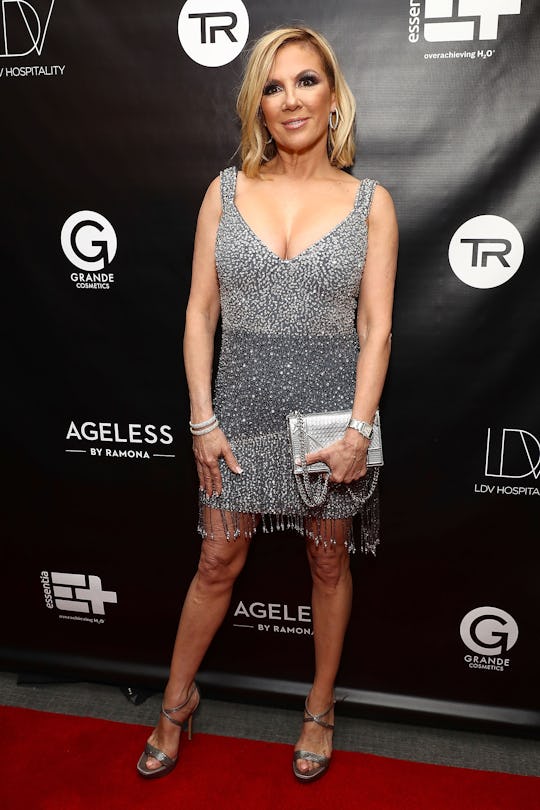 Astrid Stawiarz/Getty Images Entertainment/Getty Images
Ramona Singer Is Launching A New Skin Care Line
In Season 10 of The Real Housewives of New York, Ramona Singer debuted her new skin care line — or pre-debuted it, as the case may be. It's not her first venture into this area, though; Ramona got her skin care start with Tru Renewal a few years back and now she's returned with something different. But what is Ramona's skin care line?
Ageless by Ramona isn't available for purchase yet, but it seems like Ramona is hard at work making that happen. While chatting with Bravo, she said that she was putting all her passion and energy into the project, because it was one she was very excited about. The individual products seem to be mostly under wraps (aside from what you could catch a glimpse of on RHONY) but they're all anti-aging. Ramona's favorites are the serum and eye cream, which she uses both during the day and at night. They have hydrating ingredients like hyaluronic acid, as well as matrixyl 3000. Ramona promised that the formulation "really promotes collagen and cell renewal." They're for all skin types, too, whether you're dry, oily, or somewhere in between.
According to Ramona, using her products for just two weeks would result in improved skin. She claimed to have noticed a real difference after using her own products, and said that everyone else had noticed it too: "People just go, like, 'what's going on? Are you reverse aging?'"
Ramona has been dedicated to her skin care routine since she turned 40. But when she asked dermatologist Amy Lewis what age would have been a good time to start with anti-aging products, she was shocked by the answer. Apparently, Dr. Lewis feels anti-aging skin care should begin around age 23, which is when you start losing your collagen. Scientific American reported something similar, confirming that a person produces one percent less collagen every year after the age of 20. That can make the skin "thinner and more fragile" as a person ages.
Monsters & Critics stated that the Ageless by Ramona website initially said it would be arriving in May 2018, but the line had not been released by June of the same year. Currently, the site only says that the products will be "arriving soon," though it does have quite a few "Ramona-isms" to fill up the space. Though she explains on the site that she is naturally gifted with agelessness to some degree ("Maybe I'm part of the lucky gene club," Ramona writes), she also works hard to keep it that way. Diet, exercise, limited sun exposure, and cosmetic procedures help Ramona look the way she does, but she says that only great skin care can give you a truly flawless complexion.
While the women of RHONY showed up to Ramona's pre-launch, it seems like they're not all looking forward to its eventual release. On Twitter, a fan asked Bethenny why she hadn't responded to Ramona's invitation to the Ageless event. In response, Bethenny tweeted:
It doesn't exist. And as a business woman, I am done allowing people to pretend business is easy or have pretend parties to launch products that are fairytales. Watch cartoons if you want fantasy.
Bethenny has taken issue with some of the women's business ventures in the past, previously clashing with Sonja Morgan over her prosecco line Tipsy Girl (which sounded similar to Bethenny's own line Skinnygirl). It seems she's equally skeptical about Ramona's new skin care line, and it is admittedly a little strange to have a launch party for products that have yet to launch. If and when Ramona's line does make it to the public, interested fans can find out for themselves if it gets results.
This article was originally published on