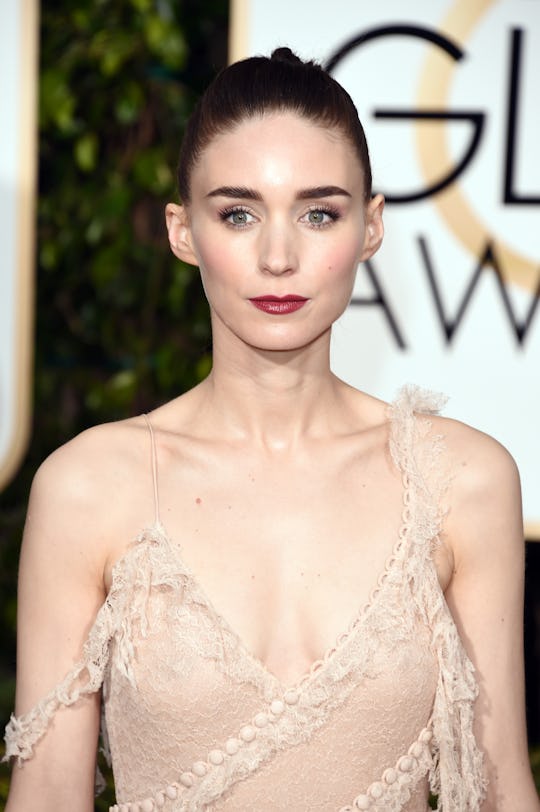 What Is Rooney Mara Wearing At This Year's Golden Globes? Her Look Was Equal Parts 'Star Wars' & Princess
Rooney Mara is known for being a lot of things, but unfashionable is not one of them. From the Oscars, to the Screen Actors Guild awards, to her stunning black Nina Ricci gown at the 2012 Golden Globes, Mara never fails to impress with her effortless looks and perfectly coiffed hair. With bated breath, the crowds waited to see what Rooney Mara was wearing at the Golden Globes once again — and the actress did not disappoint.
Let's be frank about this: Mara's 2012 Oscars look — a structured white Givenchy gown with a plunging neckline, paired with her trademark dark blunt bangs and a classic red lip — will always be the look to beat. While Mara's other appearances have always left crowds cheering, her 2012 Givenchy creation really set the standard. And at the pre-show Dom Perignon/W Golden Globe Awards Celebration on Friday, Mara thrilled crowds once more with a simple, sheer-top black sleeveless dress that gave fans a glimpse at her 2016 fashion foray.
Of course, on Sunday night, everyone was too busy ooh-ing and ahh-ing over Mara's amazing dress to remember any of that. Because oh my god — it was perfect. In a ruffled, blush colored Alexander McQueen gown with a big slicked-back braid, Mara was the epitome of perfection, looking more like a princess in some sort of Star Wars-inspired fairytale than a Golden Globes nominee.
"I made an audible squeal when I saw Rooney Mara on the red carpet," wrote one enthusiastic Twitter user on Sunday. (Hey, don't worry, so did I.) Another user commented on Mara's Star Wars look more blatantly, comparing the starlet to The Force Awakens' female lead, Rey. "Rooney Mara's hair is vaguely High Fashion Rey tonight," they joked.
I'm pretty certain that after tonight, fashionistas (and nerds) everywhere will be dying to recreate Mara's new signature look. As they should.
Images: Jason Merritt/Getty Images(2)