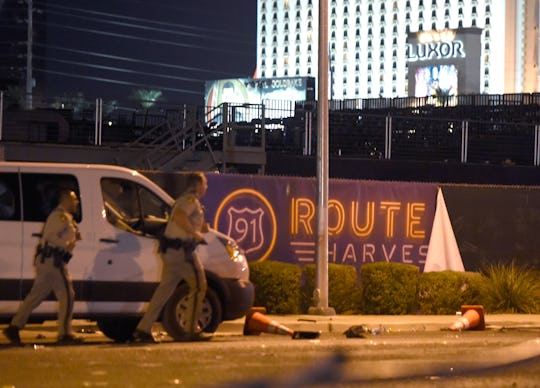 David Becker/Getty Images News/Getty Images
Route 91 Harvest Music Festival Was The Site Of A Mass Shooting
Late Sunday into early Monday, there was a mass shooting that took place in Las Vegas that is now being considered "the deadliest shooting in modern U.S. history," according to ABC News. The attack took place at a music festival, which was hosting many country stars over the weekend. So, what is the Route 91 Harvest Music Festival? Unfortunately, now, it will have a very tragic memory tied to it.
Update: As of 6 p.m. ET on Monday, Oct. 2, CNN reports that 59 people have died and over 500 people were injured. Authorities say the suspect had 18 additional firearms, explosives and several thousand rounds of ammo at his home in Mesquite, Nevada.
Earlier: Starting Sept. 29, country fans from around the world gathered in Las Vegas, right off of Las Vegas Blvd., across from the Mandalay Bay, for a weekend of country music. Hosting musicians that are up-and-coming in the scene, to Grammy Award nominated artists, the weekend was the perfect spot for fans to gather and enjoy something as simple as listening to their favorite music. Just a few of the artists that took part in the festival are Eric Church, Sam Hunt, Jake Owen, and Maren Morris. At the time of the shooting, Jason Aldean was performing, as some fan video shows him running off stage when the popping from the gun took began. He remains unharmed according to his Instagram post late Sunday night, early Monday morning, where he wrote:
Tonight has been beyond horrific. I still dont know what to say but wanted to let everyone know that Me and my Crew are safe. My Thoughts and prayers go out to everyone involved tonight. It hurts my heart that this would happen to anyone who was just coming out to enjoy what should have been a fun night. #heartbroken#stopthehate
The Route 91 Harvest Festival began in 2014. Jason Aldean, in addition to country stars like Dierks Bentley and Ashley Monroe, took part in the inaugural year. This year, Aldean was closing the festival, headlining Sunday night's final festivities. Earlier in the day, Kane Brown, Big & Rich, Jake Owen, and Luke Combs performed.
ABC News is reporting that over 50 people were killed in Sunday night's attacks, with over 200 injuries. Reports are stating that the gunman opened fire "perched high up in the Mandalay Bay Resort and Casino." Eyewitness accounts call it "nonstop gunfire," ABC News reports, causing chaos and people to "scramble for their lives."
The suspect has been reportedly killed by police, though authorities are still looking for another person with a reported relationship to the gunman, NBC News states. The Las Vegas Metropolitan Police Department have called this an active investigation still, and have set up a hotline for anyone with more information on the shooting to help assist.
The Las Vegas Metropolitan Police Department released information about the gunman, noting that the SWAT team found him dead when they "breached" the hotel room he allegedly used when shooting at the concert-goers. According to the Las Vegas Metropolitan Police Department, the gunman shot at the concert space from the 32nd floor of the Mandalay Bay Hotel Sunday night, which was overlooking the venue space for the festival.
On Monday, President Donald Trump released a statement in tweet form surrounding the tragedy in Las Vegas. It read, "My warmest condolences and sympathies to the victims and families of the terrible Las Vegas shooting. God bless you!"
President Barack Obama also released a statement in a tweet. He stated, "Michelle & I are praying for the victims in Las Vegas. Our thoughts are with their families & everyone enduring another senseless tragedy."
All in all, the tragedy and investigation following it is nowhere near over. As authorities continue to look for answers, many families must live through the unnecessary heartbreak of what took place Sunday night.