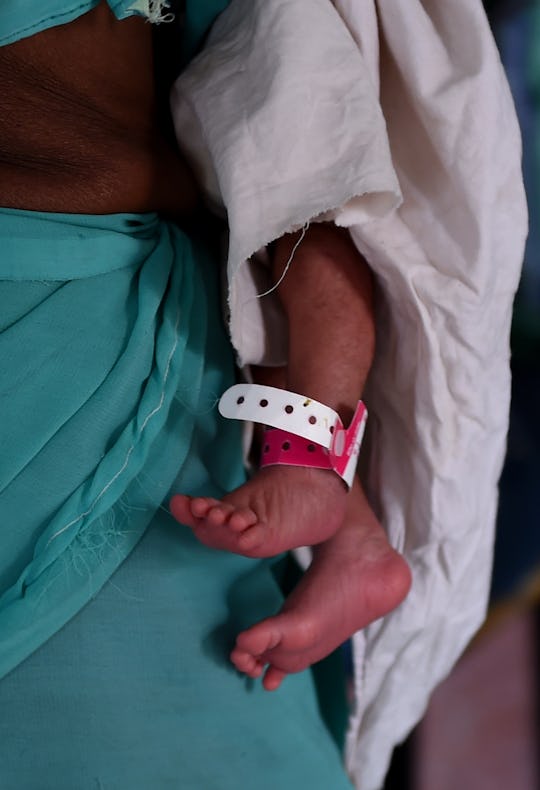 MONEY SHARMA/AFP/Getty Images
What Is RSV? This Dad's Horrifying Story Sheds Light On A Common Yet Unknown Disease
Earlier this year, a Memphis father lived through what can only be described as every parent's worst nightmare when he watched his newborn daughter flatline. When he stood by her, helplessly, as a pediatric team worked to revive her. To bring her back to life. And he continued to live through said nightmare for several weeks, as his newborn daughter continued to fight for her life. Because his daughter was battling a serious medical condition, yet it is an illness that many parents aren't even aware exists: respiratory syncytial virus, or RSV. But what is RSV? How is it transmitted and diagnosed, and how is RSV treated?
Is there any way to protect young children?
According to WebMD, RSV "is a lot like a bad cold. It causes the same symptoms...[as a cold.] It is very common and very contagious." In fact, approximately 60 percent of all infants in the U.S. are infected with RSV annually, and most children have had RSV at least once before the age of 2. But most parents do not even notice because, in most cases, RSV is not something to worry about because it goes away on its own, and without medical treatment. However, RSV can lead to pneumonia and/or other respiratory problems, especially in babies.
RSV can be extremely dangerous and, as this father quickly learned, even deadly, which is why the Memphis dad (who goes unnamed on Imgur) took to Imgur to share his — and his daughter's — story. Because, according to Little Things, some cases are so severe they will require medication intervention. Some cases, like this young girl's, are so severe that a patient can, and will, develop additional complications. For example, in addition to being diagnosed with RSV, the Memphis dad's daughter was also fighting a severe case of pneumonia, type H flu, bronchitis, and a partially collapsed right lung.
However, according to the Centers for Disease Control and Prevention, there are a few things you can do to help protect yourself, your child, and others from RSV:
Wash your hands often with soap and water for 20 second...keep your hands off your face. Avoid touching your eyes, nose, and mouth with unwashed hands...avoid close contact such as kissing, and sharing cups or eating utensils with people who have cold-like symptoms...cover your mouth and nose with a tissue when coughing or sneezing. Clean and disinfect [any/all] surfaces and objects that people frequently touch, such as toys and doorknobs. When people infected with RSV touch surfaces and objects, they can leave behind germs. Also, when they cough or sneeze, droplets containing germs can land on surfaces and objects. [And] stay home when you are sick.
As for the young girl, three weeks after being admitted to the hospital her father snapped a couple of photos of his "little fighter" recovering and surviving against all odds. His advice to parents: "Please make sure to wash your hands before handling little ones."