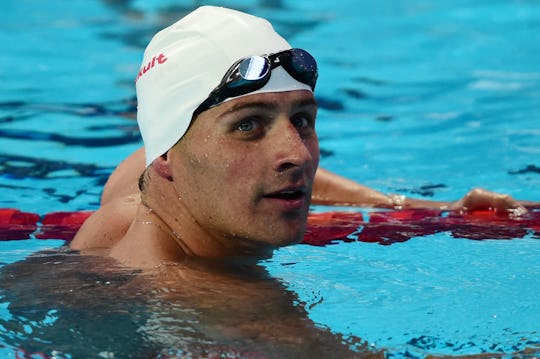 CHRISTOPHE SIMON/AFP/Getty Images
What Is Ryan Lochte's Tattoo? The Ink Nods To His Alma Mater
Ryan Lochte's got his own sense of style. From his custom American flag grill to multiple pairs of studded, sparkling sneakers, Lochte's look is definitely all his own. Since 2012, Lochte's been a well-known Olympic athlete. Though his first Olympics were in 2004, Lochte's amusing interviews, Olympic success, and chiseled jawline made him somewhat of a celebrity. Lochte says anything (and everything) that comes to mind, making him a true king of self-expression. It makes sense, then, that the 11-time Olympic medalist and close friend to Michael Phelps would opt to also embellish his skin with ink. How else would he be able to distinguish himself while wearing such a skimpy team uniform? It's possible that during the Olympic trials you noticed the black and white figure on his right shoulder blade. As he crushes butterfly in the 400-meter individual medley, it might be hard to tell: What is Ryan Lochte's tattoo?
Well, he has two, actually. There's one on his inner, upper arm and another on his shoulder blade. Like Lochte, they're both pretty straightforward images. They speak to his training as a swimmer, his need to come "first" in his races, his ambition for big things to come, and serve as a reminder from him to stay grounded in his past.
Lochte's First Tattoo? The Olympic Rings
Does this one really need explaining? Phelps has one, Missy Franklin has one, so naturally, Lochte has the Olympic ring tattoo, too, on his right bicep. The five rings are small and their proper Olympic hues.
And Second? An Alligator & Greek Script
On his back, Lochte's alligator tattoo is an homage to the University of Florida, where he graduated in 2007 and won NCAA swimmer of the year, twice. The Greek lettering under the alligator's tail reads "first." He justified this tat in a 2008 Access Hollywood interview, asking the interviewer: "What's that saying? Once you're a gator you're always a gator?" Works for us!
Lochte has toyed with the idea of a few more tattoos. He's thought about tattooing "all his family members' birth dates...on his torso," but eventually changed his mind. So perhaps, for now, he'll just stick with the two. Lochte's not the only athlete who digs the ink either; Plenty of Olympic athletes are tatted up, some with the same, classic five rings and others with similar script in different languages.
When the Olympics kick off next month, make sure to watch your screens during the 4x200-meter freestyle relay and the 200-meter individual medley — there's a gator in the water.