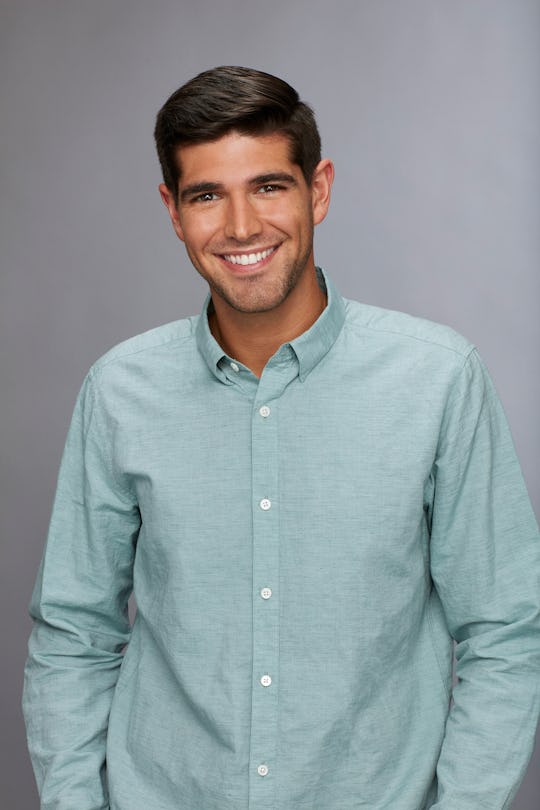 Craig Sjodin/ABC
Is Ryan Just A Banjoist... Or Does He Have A Real Job?
I don't know one Bachelor fan who isn't rooting for Becca Kufrin as she starts her new journey to find love on the new season of The Bachelorette. After seeing her tears on The Bachelor last season, fans are hoping that she finds a man who is actually worthy of her love. The lineup of men this year looks great, but there's one cast bio that stands out. On his ABC profile, hunky contestant Ryan is listed as a 'banjoist', but what is Ryan's real job?
After some internet sleuthing, it looks like Ryan, last name Peterson, actually has a day job that doesn't require a banjo. His Linkedin page lists him as a Landscape Designer and Contractor at GreenPro Direct, a home improvement contracting company based in Los Angeles. Before starting with GreenPro Direct in 2017, Ryan worked as a Program Coordinator and Implementation Specialist at Circle Surrogacy, a surrogate parenting agency in Boston.
While his ABC cast bio says he's from Manhattan Beach, California, it also mentions that he actually grew up in Cape Cod, Massachusetts, where he plays in a bluegrass band with his family. Not only is he a great banjo player, Ryan can play the ukulele, guitar, and trombone too. Aside from being totally swoon-worthy, he seems to be a pretty talented guy, and he gave the world a taste of his musical side when he met Becca for the first time.
Yep, in the sit-down episode when Chris Harrison announced that Becca would be the next Bachelorette, he also introduced five of her bachelors, including Ryan. With his banjo in hand, Ryan walked out on stage and played a personalized tune for Becca. It looked as if his musical skills caught her by surprise, but it was the song he sang to her that probably melted her heart. Take a gander at the sweet words he serenaded her with:
That Becca girl, she is awfully pretty.
Is she a country gal or is she from the city?
As for me, I'm from the sea,
And I'm looking for the one to sail away with me.
Who's that girl over there,
In a jazzy dress with her long brown hair.
Troubles behind, we'll start anew,
I'm looking for a love story, too.
So I ask what's the catch?
Well, there's 25 other cats.
But in due time, you will find,
I'm one of, I'm one of, baby I'm one of a kind.
Super cute, right? If you check out his Instagram page, you'll love him even more. He's posted tons of pictures with friends, but his pictures with his family show how much of a family guy he really is. He's posted a few adorable pictures with his baby nieces (heart melting, really) and an amazing video of him with singing with his dad on a dock in Martha's Vineyard. Becca is truly a family girl as well, so the two would really make a great match.
After the heartbreak Becca had to deal with last season of The Bachelor (when Arie Luyendyk Jr. broke off the engagement to be with Lauren B.), it will be nice to see her find a good man that truly loves her. Getting your heartbroken is never easy, but it's got to be even tougher when you have to endure all of it in the public eye. I just hope that whoever wins her heart this season is a stand-up guy that she can trust and completely rely on.
So if you're ready to join Becca on her journey to find love, and want to check out Ryan's banjo skills for yourself, tune in to the two-hour series premiere of The Bachelorette which debuts on Monday, May 28 at 8 p.m. EST on ABC.