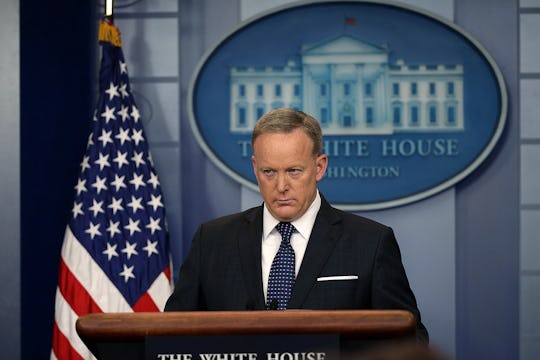 Alex Wong/Getty Images News/Getty Images
Is Sean Spicer Getting A New Role In The White House?
It looks like Sean Spicer may be leaving his role as press secretary to take on new responsibilities within the Trump administration, if new reports are anything to go by. Spicer first served as Trump's chief spokesman in 2016, as well as chief strategist and communications director for the Republican National Committee, before taking on a job with the Trump administration. So, if the rumors are true, what exactly is Sean Spicer's new job, and will he still be working with the press?
Bloomberg reported on Monday that the White House was discussing the possibility of Spicer being moved into a new department as well as appointing of a new communications director. Spicer is rumored to be moving to a "more senior role focused on strategy." Despite recent speculations that Spicer was on the verge of being fired, sources told Bloomberg that no official decisions had been made regarding the reorganization of the White House communications operation. Romper has reached out to the White House for comment on the reports and is awaiting a response.
Sources also suggested that Spicer is in charge of finding replacements for the department. Politico reported that Spicer is leading the search for his replacement as press secretary and Laura Ingraham of Fox News is a top contender for the role. A White House official told the outlet that Spicer and White House chief of staff Reince Priebus had reached out to Ingraham about the role of press secretary. The source also stated that the U.S. Political Editor of The Daily Mail, David Martosko, was being considered for the role of communications director but had yet to interview.
A White House official told Politico that Spicer has been pushing for a more senior role for a while now:
Spicer should be elevated and if he's not, I would not blame him for leaving. The president owes him this much for all he's done for him. Sean is indispensable and I think the president knows that.
The reports follow on the heels of previous communications director Mike Dubke leaving the Trump administration; After being in his position for less than three months, Dubke resigned this past May. Since then, Spicer has been wearing both hats, handling press briefings as well as the administration's overall communications strategy. He is reportedly feeling overtaxed by the double roles.
Deputy Press Secretary Sarah Huckabee Sanders is another rumored replacement. However, a source close to Sanders claimed to Politico that Sanders was disinterested in the position.
In a statement to Fox Business this week, Sanders herself commented on the communications rumors, noting,
We have sought input from many people as we look to expand our communications operation. As he did in the beginning, Sean Spicer is managing both the communications and press office.
President Trump has yet to weigh in on the search. Instead, one of his advisers told Politico, "Until you have the president buying in, any outreach or talk, is just that."