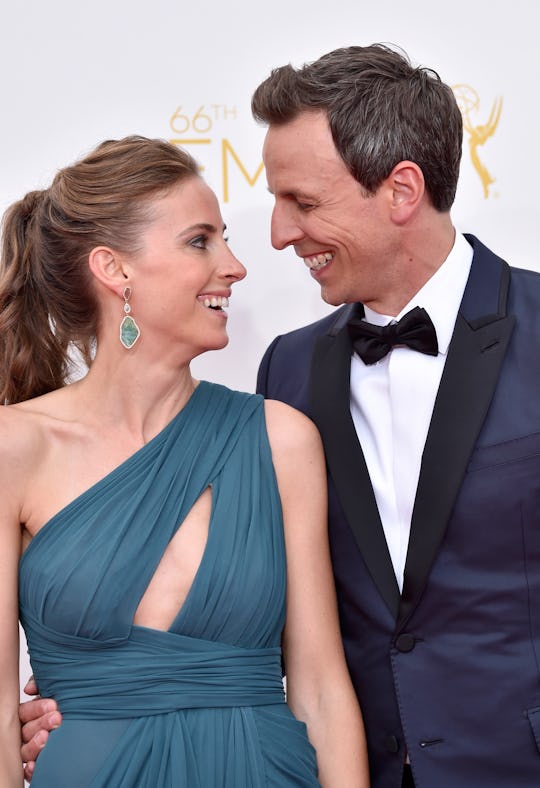 Frazer Harrison/Getty Images Entertainment/Getty Images
What Is Seth Meyers' Son's Name? The Baby Was Named After 2 Important Women
Late Night host Seth Meyers and his wife, attorney Alexi Ashe, welcomed their first child on Sunday. Meyers took Monday off of work, but was back on Tuesday night to share the family's touching, and often hilarious, birth story with his fans. The baby was born two weeks early, so Meyers and Ashe were taken off guard when the contractions started coming – luckily, there's an app for that. But the best part of the story just might be what Alexi and Seth Meyers chose to name their son: Ashe Olsen Meyers.
Meyers explained that Ashe is his wife's maiden name, and "I can't picture a better way to honor what my wife did than naming him after her." Olsen is Meyers' mother maiden name (and now the whole world will be able to get into his online banking account). Meyers said that a few people have asked him if he's concerned whether anyone will assume the baby was named after former Full House star Ashley Olsen, to which he replied, "No one will think that! Because I've long been a Mary-Kate guy." The whole birth story is quite funny, and includes bunny ears and more shout-outs to Uber driver Tariq than to the new mom herself. Check it out:
All kidding aside, giving Ashe his mother and grandmother's names is actually a very feminist move, and one I wouldn't mind seeing more often. It certainly solves the problem of balancing the desire to have the whole family "match" without erasing women's identities. I've always admired the South American naming convention where children have two last names; their mother's and their father's. Of course, it becomes problematic when those children have their own children and give only their fathers' names to the new baby. Obviously we can't keep tacking on more last names exponentially, but it would be nice if paternal surnames weren't always the default. At least in the case of Ashe Meyers, he'll hear his first name more often than his last, making it arguably the more important name. Take that, patriarchy.
And this isn't the first time Meyers has been a feminist hero: in June 2015, he invited Amy Poehler to join him on Late Night, where they resurrected their fantastic "REALLY!?! With Seth and Amy" Saturday Night Live act to take down Sports Illustrated writer Andy Benoit for saying that women's sports were "not worth watching." And in September 2015, Late Night covered the congressional hearing to defund Planned Parenthood (spoiler alert, Meyers is Team Cecile Richards, Planned Parenthood president) in a segment that's impossible to get through without laughing out loud. The late show landscape may be staggeringly overpopulated with male hosts, but this one's definitely on our side. Let's keep him.