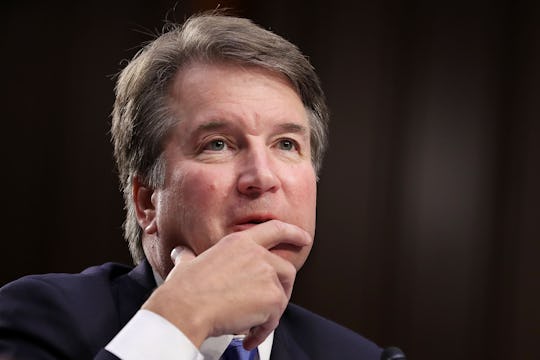 Chip Somodevilla/Getty Images News/Getty Images
Trump's SCOTUS Pick Allegedly Suggested Roe V. Wade Isn't 'Settled Law'
Following President Trump's nomination of Brett Kavanaugh for the open Supreme Court seat, his opponents raised concerns over Kavanaugh's stance on abortion. In some recently leaked documents, Kavanaugh reportedly stated that Roe V. Wade is not "settled law." But just what is settled law? Trump's SCOTUS pick seems to believe that just because Roe V. Wade hasn't been overturned doesn't mean that it can't be overturned.
Shortly before Kavanaugh's Senate Judiciary Committee hearings, President George W. Bush's lawyer turned over 42,000 pages of previously unreleased documents from the nominee's time in the Bush White House to the Senate Judiciary Committee, according to The Washington Post. These documents reportedly contained alleged statements made by Kavanaugh concerning abortion and affirmative action. In one such statement, the SCOTUS nominee allegedly stated that not all scholars consider Roe V. Wade to be "settled law." According to The Atlantic, that statement suggests that the case has not been overturned as of yet, but it still could.
The discussion of abortion was contained in an email written in March of 2003, according to The New York Times. The documents were classified as "committee confidential," meaning that they were not intended for public viewing. However, an unnamed source leaked the documents to the Times on Wednesday evening.
The email was discussing a drafted opinion piece on abortion that originally included a line reading, "it is widely accepted by legal scholars across the board that Roe v. Wade and its progeny are the settled law of the land." Within his email, Kavanaugh proposed a rewrite of that line, stating:
I am not sure that all legal scholars refer to Roe as the settled law of the land at the Supreme Court level since Court can always overrule its precedent, and three current Justices on the Court would do so.
As it turns out, finding an exact definition for "settled law" isn't all that easy. According to CNN, while potential SCOTUS nominees are likely to refer to any past Supreme Court case as "settled," that doesn't mean too much. Lower court judges must view SCOTUS decisions as "precedent," but sitting justices have the freedom to overturn them. Just this year, the court overturned a 40-year-old precedent by striking down an Illinois law that required non-union workers to pay fees, CNN reported. Kavanaugh's statements in the leaked so the fact that Roe V. Wade may be considered by some to be "settled," Kavanaugh's statements are concerning for pro-choice advocates due to the implication that it can still be overturned, according to The Hill.
Kavanaugh's stance on abortion was a big concern during his hearing. In fact, a group of 15 women dressed in handmaid's costumed lined up near the entrance of the Senate office building, according to ABC News. Their costumes and silence, organized by the advocacy group Demand Justice, were meant to bring to mind the oppression of women that run's throughout Margaret Atwood's chilling novel. Lori Lodes, an advisor with Demand Justice, told ABC News that her organization was fighting Kavanaugh because of what he stands for:
We are fighting Brett Kavanaugh's nomination because he represents the greatest threat to the right to legal abortion since Roe was decided. Already in America, the right to abortion is under attack, putting access out of reach for far too many women, especially low-income women and women of color. Brett Kavanaugh would take our current reality and make it worse — much worse.
Considering the apparent instability of "settled law," Demand Justice — and other pro-choice advocates — have grounds for concern. A SCOTUS nominee with the opinion that Roe V. Wade could, and possibly should, be overturned is a threat to the current freedoms that the case provides.