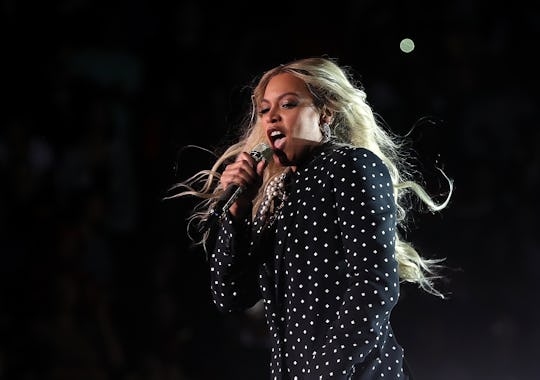 Justin Sullivan/Getty Images News/Getty Images
Beyoncé's Son's Name Is Currently A Mystery
After almost a month of radio silence, Beyoncé has finally graced fans with one of the most anticipated photos of all time — her twins. On June 19, reports started swirling that Beyoncé had given birth to a boy and a girl, though no names were announced at the time. On June 30, TMZ reported that Beyoncé named her twins Rumi and Sir Carter, which was only confirmed in Beyoncé's Instagram post debuting her beautiful twins to the world. (In true Beyoncé fashion.) The photo, though has some wondering what Sir Carter's full name is, and honestly, it's a great question.
In a late night upload, Beyoncé turned the world on its head by releasing the first photo of her twins, Rumi and Sir Carter. Yes, Sir Carter, not Sir, because it appears that Beyoncé's son may be named both names, versus the one some initially thought he was named. In her photo, Beyoncé can be seen standing outside, in front of a wall of flowers, dressed in purple, with a blue veil, holding her twins. She captioned the photo, "Sir Carter and Rumi 1 month today," with a bunch of emojis that anyone would love. While the caption is simple, it may give away something that initially fans could have looked over.
Now, Beyoncé isn't posting this photo without a heavy edit. She didn't just snap this picture, type something up quickly, and say, "OK, this will work." This is, clearly, A Process. And it's a huge part of the reason why we love her. But, to the point, Beyoncé's caption is important because she called her son "Sir Carter."
Now, this could mean a few different things. First of all, Beyoncé may have named her son not just "Sir," but "Sir Carter." That seems like the most logical reason as to why she would type out both names. What that doesn't give us is an answer as to what Sir Carter's full name is. Is his full name Sir Carter? Sir Carter Knowles-Carter? Sir Carter as just a first name, with no last name? Maybe Rumi is the unique one, and maybe she doesn't have a last name. Twitter is equally invested in this mystery.
While we may not know the answer to this important mystery for a while, I think we can all agree that if anyone can get away with such a regal name, it is the son of music royalty, Beyoncé and Mr. I-Change-The-Format-Of-My-Name-So-Much-You-May-Get-Whiplash, JAY-Z. So, with that said, reign on, Sir Carter.