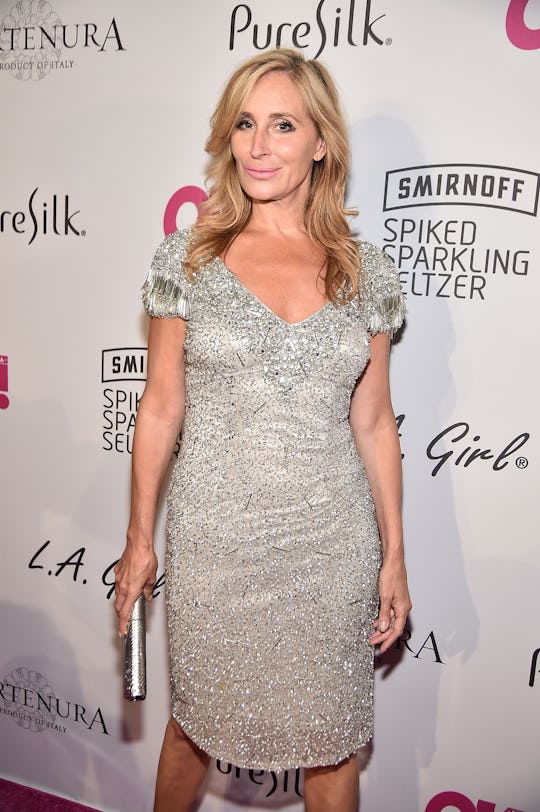 Theo Wargo/Getty Images Entertainment/Getty Images
Here's What Sonja Morgan's Family Crest Actually Looks Like
Dorinda Medley has been a bit prickly this season, especially when it comes to discussions of old relationships. She seems to be in a funk about her life as a widow and has been getting into pretty defensive arguments with Sonja, who also has a reputation for being stuck in the past. A Season 10 episode of RHONY finds Sonja showing off her family crest slippers, typical of her desperately clinging to the glory of having married into an American dynasty. But what is Sonja Morgan's family crest on RHONY? It causes yet another huge blowout between her and Dorinda.
During the course of the episode, Sonja breezily remarks that she wears her family's crest every day and shows off a pair of slippers with the stag's head symbol on them. Of course, this is actually the Morgan family crest, and while Sonja was married to John Adams Morgan (heir to J.P. Morgan's family fortune), and birthed a Morgan (Quincy Adams, the next heiress in line) Sonja herself is no longer a Morgan in Dorinda's eyes. Dorinda thinks it's disingenuous for Sonja to keep associating herself with the family when she's been all but ex-communicated from the dynasty.
"If I say to someone 'I'm going to my family home this weekend,' I'm not going to Scotland. I'm going to my family home," Dorinda says in one scene.
"She's not a Morgan, her daughter's a Morgan. You don't get a bloodline by injection," she adds in her confessional. "Just because you sleep with someone...I mean, my God, if that happened, she would have every title in the book."
Whether or not that's true, Sonja was very clearly triggered by the implication that her in-laws no longer care about her or consider her to be a part of the family. She also very firmly believes that her daughter is a Morgan and thus, she has a right to continue identifying with the clan.
The crest itself, according to A History of the Family of Morgan, from the Year 1089 to Present Times, which was published in 1902, is described thusly: "On a wreath a stag's head couped or, attired gules." If you aren't up to snuff on your turn of the century heraldry lingo, that means the crest depicts a stag's head, either over a wreath or on a red field. According to Coat of Arms Database:
Red in heraldry is given the name Gules, sometimes said to be the "martyr's colour." The colour is also associated with Mars, the red planet, and the zodiacal sign Aries. Later heralds of a more poetical nature would sometimes refer to the colour as ruby, after the precious stone.
Fellow Housewife Bethenny Frankel came to Sonja's defense, saying that continuing to wear her ex's crest was harmless. She likened it to Dorinda carrying luggage monogrammed with her married name, although we already know Dorinda's very strong opinion on the difference between being divorced and being widowed.
"You have the monogram on her luggage, she's not allowed to have a deer on her f*cking slipper?" Bethenny asked incredulously.
She also pointed out that people are allowed to behave differently and just because Dorinda wouldn't act like Sonja doesn't mean there's anything inherently wrong with Sonja's behavior.
"I don't know why Dorinda is always projecting her life story on me," Sonja said in a confessional. "Because we have two totally different lives if you ask me."
Ultimately, it seems like both Dorinda and Sonja are still processing how to navigate life after their marriages and it might be best for them to take some space from each other if they can't tolerate how the other is choosing to do it.