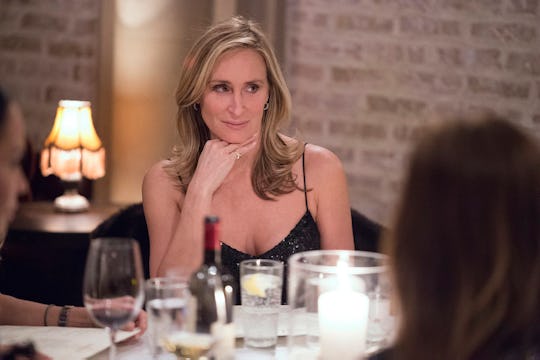 Dave Kotinsky/Bravo
What Is Sonja Morgan's Prosecco On 'Real Housewives'? She's Got A New Business Venture
First there was Bethenny Frankel's Skinnygirl brand, then there was Ramona Singer's Ramona Singer Pinot Grigio. Now, the promos Wednesday's episode tease Sonja Morgan unveiling her own beverage brand. "Everyone who knows me knows I drink a lot of prosecco!" she says to an awaiting crowd, unveiling her very own bubbly wine. So what is Sonja Morgan's Tipsy Girl prosecco? Yes, it's called Tipsy Girl, and you may never get a chance to try it.
Sonja has become famous amongst the Real Housewives of New York fans for her many business ventures. She has also become famous for her products never making it to market. Remember the Sonja Morgan toaster oven that was supposed to happen? It seems that this time she's going with a product that has worked for at least two other New York Housewives — alcohol. Ramona has had some success with her Pinot Grigio, and Bethenny's Skinnygirl brand has become enormous and wildly popular. So how will Sonja's Prosecco fare?
So far, it doesn't look that good. And it all started with the name.
Sonja's new liquor brand first ran into trouble in the fall/winter of 2015, when it faced some legal opposition from none other than Bethenny and her Skinnygirl team. Bethenny pointed out that "Tipsy Girl" sounds an awful lot like "Skinnygirl." Pretty fair point to make. Sonja's business partner has maintained that "Tipsy Girl" has nothing to do with "Skinnygirl," and is not a weight loss product.
To make things even shadier, according to Page Six, Bethenny actually attempted to block Tipsy Girl from making it to market by trademarking the name Tipsygirl, though Sonja and company had already trademarked Tipsy Girl seven months prior.
In February, Sonja said she was planning on changing the name of her prosecco brand while on Khloe Kardashian's talk show, Kocktails With Khloe. She said it was causing problems between her and her good girlfriend Bethenny. "You know, I love the name, and I just want to work. I'm just trying to work," she said. Why can't we just let her live? Personally, I think this is some drama that, while it may be more "real" than a lot of the stuff that the Housewives tend to fight about, should maybe just be dropped. Can't you just let her have this one Bethenny? Hopefully they'll solve this out of court.