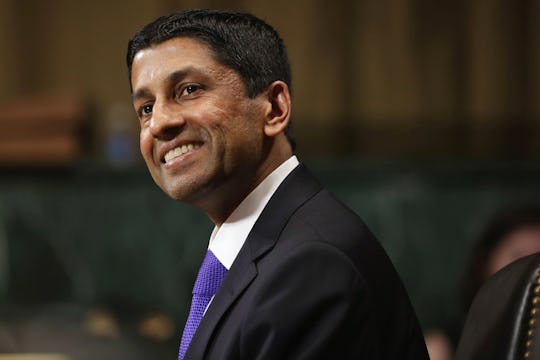 Chip Somodevilla/Getty Images News
What Is Sri Srinivasan's Track Record On Women's Rights? He Could Be Obama's SCOTUS Nominee
Long before anyone was ready to process Justice Antonin Scalia's unexpected death on Saturday and what it might portend for the Supreme Court (or the White House), court-watchers were already digging through the crates in hopes of finding the most likely candidates to fill the vacancy. Since Scalia's death, Judge Sri Srinivasan has quickly become the most popular name in the news as his possible replacement. With several landmark cases on abortion and healthcare on the court's docket for the upcoming session, many are wondering: what is Sri Srinivasan's track record on women's rights? According to several news sources, Republicans may be blocking an otherwise perfect candidate.
Given Srinivasan's long career as a respected, nonpartisan litigator for the rights of others, it has been difficult for liberals and conservatives to suss out his personal politics. In a 2013 article on Srinivasan's nomination to the D.C. Circuit Court of Appeals, Mother Jones reporter Adam Serwer argued that Srinivasan was somewhat of a mystery, with a middle-of-the-road track record that could make either liberals or conservatives nervous. Three years ago, a bipartisan list of supporters stepped forward to endorse his nomination, including former solicitors general from the Clinton era, conservative judge J. Harvie Wilkinson III, and Reagan appointee Justice Sandra Day O'Connor.
Srinivasan's portfolio includes taking on controversial business and human rights cases, but not many cases linked to women's right specifically, according to Mother Jones. While working for private-sector firm O'Melveny & Myers LLP, Srinivasan defended Enron president Jeffrey Skilling before the Supreme Court and argued that oil giant Exxon shouldn't be held accountable for human rights violations outside the U.S. Later, as a government lawyer in the Obama administration, Srinivasan filed pro bono briefs opposing restrictive voter ID laws, supporting affirmative action, and helping to prevent deportation of a legal immigrant after a minor drug offense.
However much a mystery Srinivasan's personal leanings might be when it comes to worker's rights, human rights, and immigration, his positions on political hot-button issues like abortion and affirmative action are even less clear. While at the Justice Department in 2013, Srinivasan served on the legal team that argued before the high court to strike down the Defense of Marriage Act, according to Reuters. That ruling helped pave the way for the Court's historic decision on same-sex marriage just two years later. But while it certainly speaks to Srinivasan's talents as a litigator and strategist, it offers little clear evidence of his personal beliefs about the issue. Attorneys are expected to provide the best possible defense for their clients, whether or not they happen to share their clients' personal beliefs.
With so little evidence of Srivivasan's personal leanings, it would make sense if both liberals and conservatives expressed concerns about his possible Supreme Court nomination. But Srinivasan's real positions and track record may actually matter little in the fight to replace Scalia.
Republicans in Congress and on the campaign trail have already issued a Pavlovian-like intent to block any candidate that Obama might introduce, however qualified. Armed with a ridiculously flimsy claim that the President's duties should be downplayed in an election year, Republicans have committed to digging in their heels and resisting the Constitution. The irony is that interpreting the President's powers under the Constitution is the kind of question that a fully functional Supreme Court is designed to handle. What a world.