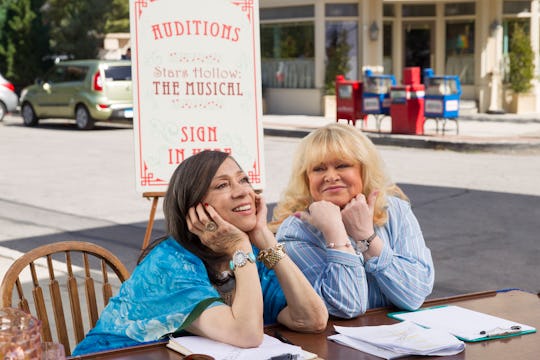 Saeed Adyani/Netflix
What Is Stars Hollow: The Musical About? The 'Gilmore Girls' Revival Includes A Production
If there's one thing the residents of Stars Hollow truly love, it's a good town-wide production, and from the looks of things, the Gilmore Girls revival will include at least one such production at Miss Patty's, of course. So what is Stars Hollow: The Musical about? Fans have gotten a few clues, but whatever the actual storyline is, rest assured that it will probably be just as zany and over-the-top as any in the little town's long history.
Miss Patty is famous for her elaborate stage shows. Who could forget the theatrical genius that was "Buckle Up, I'm Patty" or the children's recital that ended with Kirk re-enacting his own life-cycle from birth to a highly disturbing death? If the revival's production stills and official trailer are anything to go on, Gilmore fans are to be treated to yet another one of these unforgettable performances. One photo from the upcoming series shows Miss Patty and Babette collecting signups for auditions for the new musical, and in the trailer Sutton Foster is on stage (around the two-minute mark) in a pilgrim outfit, performing what is most likely her part in the play. And show creator Amy Sherman-Palladino has confirmed that the musical will be a particularly fun element to the revival.
Entertainment Weekly reported that the Tony-award winning composer of Fun Home, Jeanine Tesori, wrote the score for the Stars Hollow musical, and the lyrics were written by Sherman-Palladino and her husband Dan. It will be a musical history of the town and stars Foster along with other Broadway alums like Christian Borle and Kerry Butler. "It's one of those things we've wanted to do for a while — a small town reaching beyond its means and its talent to put on a musical," Dan said according to the magazine. And earlier this year, Sutton herself told Vulture that her character is a struggling actress, and "I can tell you that her best gig that she's gotten so far in life is the lead in the Stars Hollow musical."
A musical history of Stars Hollow is almost heart-achingly perfect. That is one town that is certainly in love with its own history. Perhaps this is what everyone is excited about in that town meeting teased in the trailer, in which the inimitable Taylor Doose says "Boy, are we excited about this!" to which the townspeople dutifully repeat with their hands raised.
God only knows how all of this will fit into the storylines of the titular Girls themselves, but I do know that it is going to be so much fun. And boy, am I excited about this!