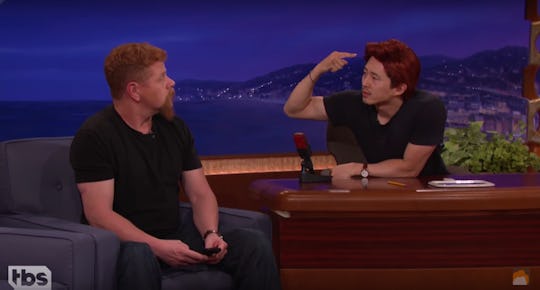 What Is Steven Yeun Doing After 'The Walking Dead'? He May Have Found A New Gig
Last Sunday, we lost Glenn on The Walking Dead. Distraught memes flooded Twitter, and social media, mourning the father-to-be, but a recent appearance on Conan may shine a bright light on his distinctly dark demise. People say laughter is oftentimes the best cure for most things, including grief. Perhaps that rational is what helped shape this week's episode, and helped answer the question everyone is thinking: what is Steven Yeun doing after The Walking Dead? It turns out his Conan O'Brien bit may be his true calling.
During a spot on an episode of Conan, Yeun jokingly reported that after seven years of experience on the AMC hit series, he would now be the red-headed host's stand-in. "I don't come in for rehearsals, as you can tell," O'Brien said playing a long with Yeun. "Andy [Richter] and I are flown in by helicopter seconds before the show begins" he quipped. Banter between the two continue before they cut to a "recording" of Yeun filling in for O'Brien.
"Look at me, I'm Conan!" the actor manically scoffed as he brought a coffee mug to his lips. In a mocking fashion, Yeun deepened his voice, and mouthed off words like Speedy Gonzalez, "Joke. Interview. Talking to you. Listening. Joke. Interview. Band. Cut to, it's easy!"
Yeun then held up an electric guitar and some pale blue cue cards. He suddenly ripped up the cards and said "Everyone's fired. Now you just have to listen to me play guitar for four hours." Yeun's actions opportunely poked fun at O'Brien's fondness of the guitar.
The next shot exposes a private moment, specifically Yeun looking in a mirror with tears streaming from his eyes. While imitating O'Brien, he convinces himself that "This Thursday, you are gonna be funny." As he aggressively shakes the mirror a bit he forcefully repeats "gonna be funny!"
The next cut is to another O'Brien ego boost, as Yeun brushes out his hair. Getting frustrated with his fluffy mane, the scene cuts to a pleased Yeun patting down a red wig. "Is this red enough?" he asks his mystery costar. The camera then pans out to reveal The Walking Dead's Michael Cudlitz, his costar who also died this Sunday (Abraham). His appearance a nod to the fact that Abraham and Glenn are still very much alive and well in the media, and in our hearts.
"I'd go with this" Cudlitz replies as he points to his ginger locks. The audience screams in a blend of surprise and joy as he does so, tying the sketch together with a nice, red bow. Watch the sketch in entirety for yourself below!
This certainly wouldn't be the worst fill-in situation, right?