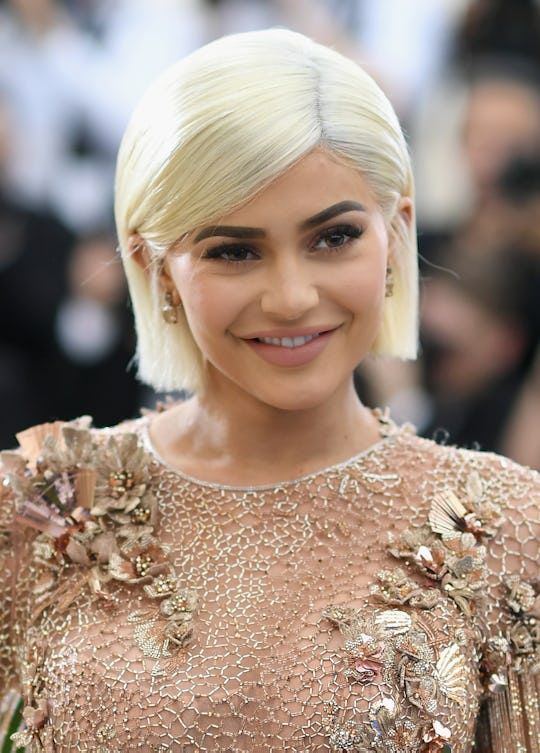 Dimitrios Kambouris/Getty Images Entertainment/Getty Images
Kylie Jenner's Daughter Still Has One Mystery Surrounding Her Name
It's only been a few days since Kylie Jenner confirmed what fans have been suspecting all along — she was pregnant and give birth to a baby girl. But that still left a few questions up in the air, such as the baby's name. Now that too has been revealed. Jenner took to Instagram with yet another post with a caption that consisted of one little word: "stormi." But if that's the case, then I can't help but wonder: what is Stormi's middle name?
As of now, that little detail has yet to be revealed, though, I have no doubt that the answer will present itself in no time. I mean, remember how just a few days ago we were begging to know the little one's name? And now here we are, still with more questions, but also just as many answers. The Instagram photo showcases the infant's adorable (yet somehow perfectly manicured-looking fingers) wrapped around Jenner's thumb. As I mentioned, the caption only states the first name, but is immediately followed by an angel emoji. Could this be yet another clue or simply a symbol of how angelic she finds her little girl to be? Either seems totally possible at this point.
OK, so just hear me out on this one — what if the angel emoji was actually a subtle clue about the middle name? Is it possible Jenner named her daughter Stormi Angel? I honestly don't think it should be ruled out entirely. Fans have searched endlessly for clues about this child ever since it was first reported that Jenner was pregnant. Diehard fans have picked apart the Kardashian and Jenner Snapchat and Instagram accounts, hoping to find something, anything, that could provide insight into this child's existence. So is it really so out there to think that the angel emoji is more than just an angel emoji?
Granted, this is just one person's theory, but if it ends up being true, you heard it here first. I'm calling it. Or maybe the middle name will be Butterfly? Regardless, some fans have found the name to be a bit of a letdown, since so many were sure they knew what it was. Butterfly was a popular prediction for many. But alas, that didn't turn out the be the case. However, that hasn't stopped fans from having a little fun with the new name.
Jenner officially confirmed the birth of her daughter on Feb. 4 (yes, the day of the Super Bowl). She used Instagram as her main source of communication for that big announcement as well, helping to explain to all of her fans why she wanted to keep this exciting news of hers private for so long. "I'm sorry for keeping you in the dark through all the assumptions. I understand you're used to me bringing you along on all my journeys. my pregnancy was one I chose not to do in front of the world," Jenner wrote on Instagram, adding:
I knew for myself i needed to prepare for this role of a lifetime in the most positive, stress free, and healthy way i knew how. there was no gotcha moment, no big paid reveal i had planned. I knew my baby would feel every stress and every emotion so I chose to do it this way for my little life and our happiness.
pregnancy has been the most beautiful, empowering, and life changing experience I've had in my entire life and I'm actually going to miss it. I appreciate my friends and especially my family for helping me make this special moment as private as we could. my beautiful and healthy baby girl arrived February 1st and i just couldn't wait to share this blessing. I've never felt love and happiness like this i could burst! Thank you for understanding.
So who knows — maybe in a few days she'll post another message, revealing what Stormi's middle name is (if she decides to give her a middle name, of course). But for now, it'll remain a mystery. I guess you could call it the calm before the storm. (Sorry, just couldn't help myself.)
Check out Romper's new video series, Romper's Doula Diaries:
Watch full episodes of Romper's Doula Diaries on Facebook Watch.