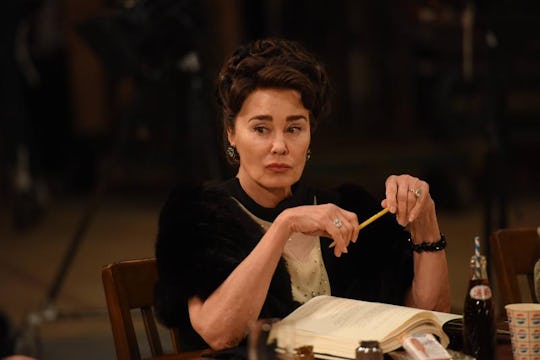 Prashant Gupta/FX
'Strait-Jacket' Was Joan Crawford's Next Big Project
After the unexpected commercial success of 1962's Whatever Happened To Baby Jane? and with the rise of Alfred Hitchcock's popular television show, horror movies with older female leads experienced a moment for the remainder of the 1960s. Ryan Murphy's FX anthology Feud focuses on the rivalry between Joan Crawford and Bette Davis while working on their first motion picture together, but Crawford dropped out of their planned followup, Hush...Hush, Sweet Charlotte. However, she did still dabble in the horror genre, which is proven by her starring role in a film called Strait-Jacket. So what is Strait-Jacket about exactly? It's another psychological horror flick in the so-called hagsploitation genre.
Strait-Jacket, which premiered back in 1964, the year following that backstabbing Oscars ceremony depicted on Feud, starred Crawford and Diane Baker as a murderous mother-daughter duo. The roles originally went to Joan Blondell (played by Kathy Bates on Feud) and Anne Helm, but Blondell had to drop out after an injury. Crawford was recast as Lucy Harbin, a woman who had just spent 20 years in a psychiatric facility after literally ax-murdering her husband and his mistress in a jealous rage. (Something tells me she and Lizzie Borden would've gotten along famously.)
She goes to live on a farm with her brother, his family, and her adult daughter Carol, who witnessed her mother's crimes as a three-year-old, but has been living a relatively normal life on the farm ever since.
Naturally, Crawford demanded script and cast approval as part of her negotiations before taking the role, and, once she accepted, promptly fired Helm from the project, claiming they didn't have good chemistry. Crawford replaced her with Baker and, once the cast shakeup settled, filming resumed. In the film, Carol encourages her mother to pick her life back up as it was before she went into the psychiatric facility. Lucy begins flirting with her daughter's wealthy fiancé Michael and has a meltdown when his parents claim her daughter is an unsuitable choice for marriage. Lucy's doctor and another man are later found ax-murdered, and everyone assumes Lucy is responsible, that she is still unwell, and that she should return to the psychiatric facility.
But in the end, it comes out that Carol is the one responsible for the murders. Her objective was to eventually murder her fiancé's parents so that he would be free to marry her without their disapproval. She was attempting to frame her mother by gaslighting her into her questionable behavior and murdering people she associated with to make it look like she ultimately killed Michael's parents. Crawford earned mostly good reviews for her work in the film, but it was panned by critics for its poor quality overall. Strait-Jacket was considered a commercial success, though it never earned Crawford another Academy Award she so craved.