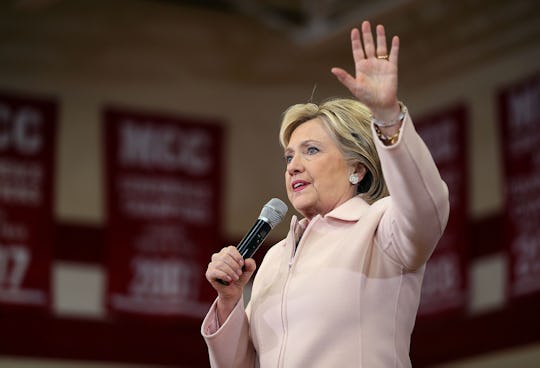 Justin Sullivan/Getty Images News/Getty Images
What is Super Tuesday? The 'SEC Primary' Is Really Important For Presidential Hopefuls
Donald Trump just swept the Republican South Carolina primary, while Hillary Clinton topped the Democratic Nevada caucuses. Jeb Bush has dropped out of the race, and all eyes have moved to the Democratic South Carolina primary this coming Saturday, Feb. 27. Clinton is a firm favorite in the state, though, so most people have already turned their attention to March 1 — which happens to fall on a Tuesday. So what is everyone so excited about, and what is Super Tuesday? Well, know one thing for sure, it's a really important day for presidential candidate hopefuls.
Super Tuesday is the nickname alotted to the day in every Republican and Democratic presidential primary cycle when the most states get the chance to cast their votes. It is known to cut down dramatically on the number of candidates in the race — which is specifically pertinent to the Republican field that is huge by historic standards, even with Bush pulling out after a fourth-place showing in Nevada. And in 2016, the date is expected to bring much of the same.
So what's at stake here? A lot, to put it mildly. Twelve states and one territory will hold their respective primaries or caucuses that day, and more delegates will be on the table than at any other time during the race for presidential candidacy. It has everybody talking, as the upcoming day's events have the potential to make or break campaigns.
Interestingly, Super Tuesday is even more important this year than in 2012. Alabama, Arkansas, and Texas joined Super Tuesday this time around, and Minnesota also came on board for its primary, as well. Super Tuesday has also been coined the SEC primary, since five of the involved states — Alabama, Arkansas, Georgia, Texas, and Tennessee — all have teams that play in the Southeastern Conference (SEC) of collegiate sports.
There's plenty on the line for all the candidates, but more for some than others. For example, The Washington Post went so far as to call Super Tuesday "dangerous" for Vermont Sen. Bernie Sanders. Since Super Tuesday covers such a broad swath of the country, it makes Sanders' grassroots, personal style of politics a bit difficult. And the large primary events like this favor well-backed, well-funded candidates such as Clinton. But if he can pull it off, it would mean wonders for his campaign.
Across the aisle, it seems those with the deepest pockets are some of the favorites for the Republican field this coming March 1. Texas Sen. Ted Cruz and Donald Trump are heading into Super Tuesday with the most funding. And, one might add, Cruz' homestate of Texas is included in the day's primaries.
According to The New York Times, Cruz and Trump are in the "best position financially." But although Cruz has deep pockets, as well, Trump is expected to dominate Super Tuesday, while other candidates vie for convention delegates by targeting small pieces of the states included. Cruz, for one, made it clear to The Washington Post he isn't willing to shift to the national strategy an event like Super Tuesday would seem to call for. Cruz campaign manager Jeff Roe explained,
We have our supporters identified in March 1 states and need to communicate with them. Neighbor-to-neighbor is our governing philosophy. So as it goes national, that still remains our philosophy.
There hasn't been very much polling done in the Super Tuesday states, so it's still pretty up in the air what will happen. But one thing's for sure. The results of Super Tuesday will give America a much clearer picture of who has the greatest chance of making it to a one-on-one race for a chance to be the next president of the United States.