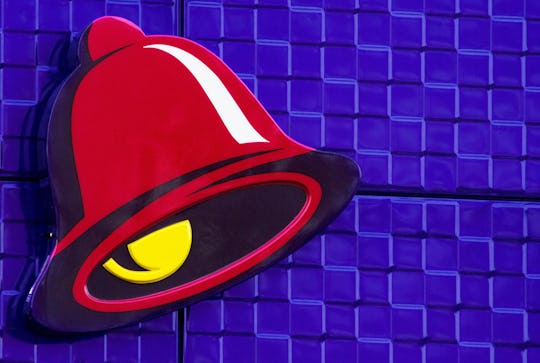 PAUL J. RICHARDS/AFP/Getty Images
What Is Taco Bell's Mystery Product? It's Available For Pre-Order Now
You may have watched the teasers one too many times already to admit. And you may have scoured the Internet for hints and clues as to what might be in store for the lovers of the fast-food alternative to burgers and fries. And ... you may have even already pre-ordered five of the item. But, really, do you have any idea what Taco Bell's mystery product really is?
Well, as it turns out, no-one does — not even the mystery products' three pitchmen, NBA player James Harden; Giorgio Tsoukalos, "that guy with the hair" from Ancient Aliens; and Bryan Wilson, a Texas attorney and YouTube star. The Taco Bell gods are scheduled to reveal the mystery product in a TV ad during the first quarter of Sunday's Super Bowl 50, but the fast-food giant is staying tight-lipped.
"Apparently it's about a mystery product that I even don't know about," said pitchman Tsoukalos in a 30-second clip promoting the mystery meal. "It almost seems like it's a conspiracy."
Taco Bell has so far released three 30-second teaser videos to promote what it calls "one of its biggest product launches to date." But the company seems to be successfully keeping people guessing when it comes to their newest product launch. This is the Mexican-inspired restaurant chain's first Super Bowl ad since 2013. The product had better be good — the average price of a 30-second Super Bowl TV spot this year has risen above $5 million.
Taco Bell has a lot of hype to live up to, considering it's kept its loyal fans in the dark for so long, and because the advertising campaign presents the new menu item as the, "Biggest. Idea. Ever." (Just imagine it in all caps).
All the information Taco Bell was willing to reveal on their cryptic pre-order site is the product's allergen info (hint: it contains milk, soy, and wheat ... but what Taco Bell product doesn't?). You can't actually see the product before you pre-order it, but you do get to taste it before any of your friends do. Everyone who pre-orders the product — customers are limited to pre-ordering five of the $2.99 mystery item each — will receive an email on Saturday, Feb. 6, prompting them to complete their order and pick up their mystery lunch from their local Taco Bell between 2-4 p.m. Granted, if enough people pre-order, the cat will be out of the bag before we all sit down to watch the Big Game. I mean, two words: social media. But for now:
The rest of the eager masses will have to wait a bit longer, according to Taco Bell's marketing team. Or you can try to decphier the press release Taco Bell put out with the key words redacted. I tried it – and it kind of feels like playing an impossible game of Mad Libs. Heres an excerpt:
"This is the first time in ... history that a ... and ... are coming together — and it's happening on ... . For those who can't wait until ... to try the ... Taco Bell is inviting fans to join in the excitement by ... the ... on Ta.co starting February ... . To the delight of ...-lovers everywhere, ... will be available February ... days ... its ... ."
Yep, good luck with that. The press release was just part of Taco Bell's strategy to engage its curious fans. "We aren't revealing details of our spot until the big game, but we will have ways for our fans to engage with us in the weeks leading up to Super Bowl 50," Taco Bell's chief concept and brand officer, Chris Brandt, said this week, in the same statement. "This build up will pay off with one of the most exciting announcements from the Taco Bell brand to date."
Unless Taco Bell fans want to wait until Monday, Feb. 8 to get their own "mystery product," they will need to pre-order. Still not convinced the chain's new mystery product is worth it? Taco Bell has a clear message for those unsure of whether they want to take the pre-order risk. As the restaurant chain has posted many times on its live feed to try and reach those on the fence about ordering their new item: "Go on, you know you want to."
Update: During its Super Bowl 50 commercial, Taco Bell revealed its mystery product, the Quesalupa, a quesadilla-chalupa hybrid, with the promise, "It's gonna be bigger than everything." Watch the full spot below: