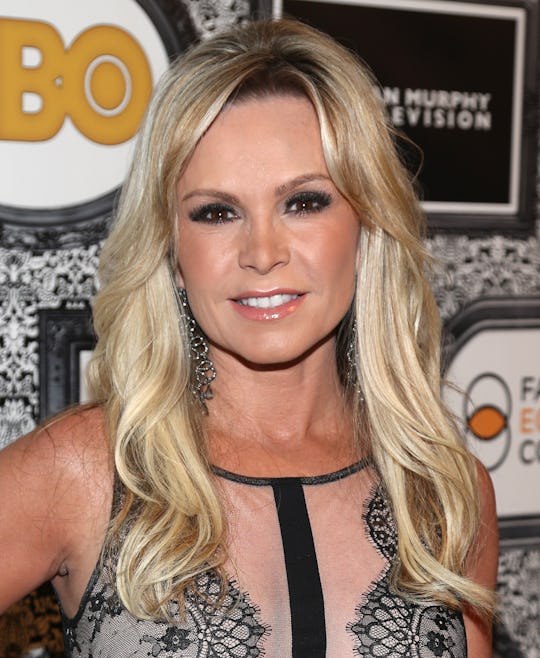 Imeh Akpanudosen/Getty Images Entertainment/Getty Images
What Is Tamra Judge's Net Worth? The 'Real Housewives' Star Is Doing Well
While some of the women on the Real Housewives are astronomically wealthy, earning crazy money and living in lavish homes, other women from the franchise are well-off in a way that seems slightly more relatable. They might still be living in huge houses in Orange County, they might be throwing wine at each other on TV, but they still have regular jobs and (mostly) regular lives. Tamra is one of those women. Her career aspirations have grown during her time on the show, and now she's doing pretty well for herself. So what is Tamra Judge's net worth?
Tamra's net worth is estimated to be around $800k, with her salary falling around $325k for each season of The Real Housewives of Orange County. Tamra earns her money from a variety of sources, including the gym she co-owns with her husband Eddie, C.U.T. Fitness, as well as her own career as a real estate agent for the agency Ladera Realtor. Television appearances outside of RHOC help too; Tamra has popped up on shows like Lopez Tonight and Who Wants to Be a Millionaire, which may have earned her an appearance fee. Despite the struggles she's had getting there, Tamra has certainly made herself very comfortable financially.
Some of the Real Housewives are married, which means their spouse contributes in some way to their net worth. In the case of Tamra and Eddie, she is the more monetarily successful of the two; Eddie's net worth is around $300k according to Celebrity Net Worth, which should be taken as an estimate. Before marrying Tamra, Eddie worked with his adoptive father at the Judge Law Firm in a managing capacity. Now Eddie's main job is taking care of C.U.T. Fitness.
The salary of real estate agents can vary according to a few different factors. It depends on their client base, how many homes they sell, and the commission they receive. Most real estate agents end up earning between $34k and $45k per year, but could earn more or less according to how much they sell. It's uncertain how active Tamra's real estate career still is, especially because it doesn't feature on the show a great deal. It's similarly difficult to determine how much Tamra and Eddie make from their ownership and operation of C.U.T. Fitness, but considering they might open up a second location, it's probably doing pretty well.
It seems like the bulk of Tamra's income is earned from The Real Housewives of Orange County, which allows her to follow her passion for fitness.