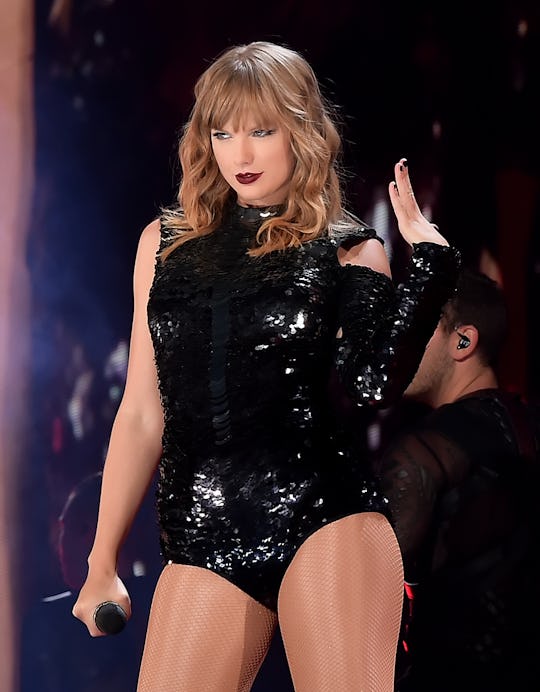 Kevin Winter/Getty Images Entertainment/Getty Images
Here's What You Need To Know About Taylor Swift's 2018 AMA Performance
Taylor Swift has been all over the news this week. First, she broke her long-held silence on politics by urging people to vote for the Democratic candidate in her state of Tennessee. And tonight, at one of the music industry's biggest celebrations, she making an awards show comeback. So what is Taylor Swift performing at the 2018 American Music Awards? It's going to be her first awards show performance in three years.
On her Instagram page last week, the Reputation singer announced that she is opening the AMAs with a performance of her new single "I Did Something Bad." The night's other performers include industry icons like Mariah Carey, Cardi B, Carrie Underwood, Jennifer Lopez, and Twenty One Pilots, and there will be a tribute performance for the legendary Aretha Franklin as well. The show airs live from the Microsoft Theater in Los Angeles on Tuesday, Oct. 9 at 8 p.m. ET on ABC, so if you're a Swiftie (or music fan in general), you'll want to get your DVR ready.
No matter how you feel about Swift and her music, there's no denying that she is a force in popular culture. This past week, she made headlines when she posted a lengthy opinion piece about the current political climate on her social media pages, slamming the Republican congressional candidate from her home state of Tennessee. Swift highlighted Marsha Blackburn's record on voting against bills for equal pay for women, LGBTQ rights, and domestic violence, and announced that she would be voting for Democratic candidates in the midterms. She also urged young voters to get out to the polls next month, stressing the importance of voting for a candidate that holds their values.
"Please, please educate yourself on the candidates running in your state and vote based on who most closely represents your values. For a lot of us, we may never find a candidate or party with whom we agree 100% on every issue, but we have to vote anyway," Swift wrote in her Instagram post. "So many intelligent, thoughtful, self-possessed people have turned 18 in the past two years and now have the right and privilege to make their vote count. But first you need to register, which is quick and easy to do. "
Swift's posts — which reached her 112 million Instagram followers and 83 million Twitter followers — may have led to a spike in voter registration. According to a report by CNN, Vote.org (the website Swift referred to in her post) saw 65,000 registrations in a 24-hour period after her post. But along with inspiring fans to register to vote, her post also drew some presidential ire. CNN reported that when asked about Swift's position on Blackburn, President Trump told reporters she was probably uninformed. "I'm sure Taylor Swift has nothing — or doesn't know anything about her," said the President. "Let's say that I like Taylor's music about 25% less now, OK?"
Her new single, "I Did Something Bad," features lines like, "I never trust a narcissist" and "they're burning all the witches, even if you aren't one." So many fans are speculating that Swift's performance at the AMAs will reflect her political message.
But according to a report by Radar Online, AMA producers specifically asked performers, including Swift, to refrain from taking political stances on a night meant to celebrate music, so her performance may not be as politically explosive as some fans hope.
There's no telling what Swift's performance will entail at the AMAs tonight, but given her track record of amazing live performances over the years, she's probably going to start things off with a bang.