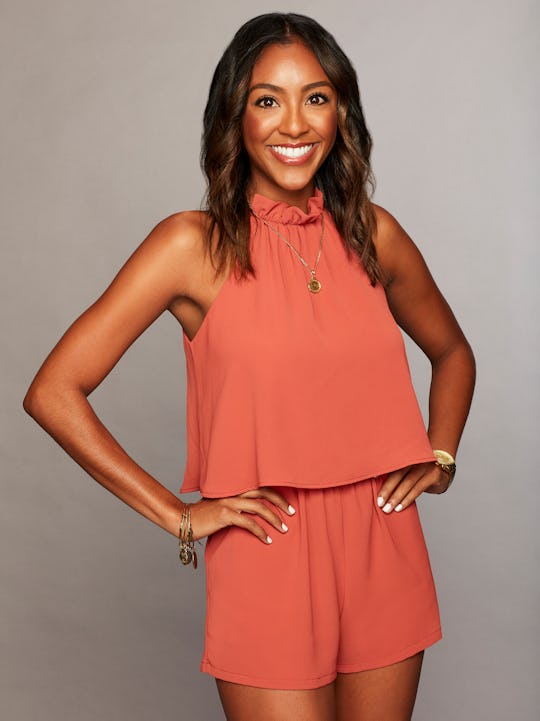 Courtesy of ABC
'The Bachelor' Contestant Tayshia's Instagram Says A Lot About Her
The Bachelor is finally returning, with fan-favorite Colton Underwood in the driver's seat. Bachelor super fans are already getting into the zone by researching the contestants before the season premieres. One competitor, Tayshia, is already making headlines, leaving fans wondering: What is The Bachelor contestant Tayshia's Instagram?
On Instagram, Tayshia, 28, goes by the handle @tayshiaaa, where she has a little more than 5,000 followers. She's only shared 167 posts, with her first post dated April 2012. Her Instagram reveals a few things about her. For one thing, her bio reads, "Vous êtes votre seule limite," which is French for "You are your only limit." She also mentions that she's located in Orange County, California, and she sites Psalm 46:5. According to BibleGateway.com, the bible verse reads, "God is within her, she will not fall; God will help her at break of day." Hopefully fans can expect more ~inspirational quotes~ from her on this season of The Bachelor.
Tayshia seems pretty excited for the season to premiere, based on her Instagram. In December, she announced that she was going to be on the show by posting her official Bachelor headshot. "Looks like I'll be seeing you all on Monday nights!" she captioned the photo.
And to celebrate the new year earlier this week, she posted a gif from The Bachelor of herself jumping into Colton's arms. "Jumping into 2019 like..." she wrote alongside the gif, adding the hashtags #comininhot #lolbye #thebachelor.
A few fun facts about Tayshia are available in her bio on ABC's website. Tayshia works as a phlebotomist, which means she draws blood from patients. Her bio adds that she volunteers at her church, she enjoys wine tastings, she was a Girl Scout for 12 years, and she recently took part in a mission trip to Africa.
So, why is Tayshia capturing America's attention before The Bachelor has even started? For some reason, people seem to be captivated by the fact that Tayshia was once married. As Radar Online reported, via papers obtained from the Superior Court of Orange County in California, Tayshia was allegedly married to a man named Joshua Bourelle. The couple allegedly filed for divorce in October 2017 after a year and a half of marriage, and their divorce was finalized in April 2018, according to Radar Online. Filming for The Bachelor began five months later, in September 2018.
A slew of tabloids are shaming Tayshia for going on The Bachelor a few months after her divorce was finalized, and for allegedly being in debt — which is completely unfair. For one thing, the couple filed for divorce about a year before filming began. And for another, Tayshia's personal life is no one's business, just because she is on a reality TV show. Hopefully she is given the opportunity to open up with Colton on her own time over the course of The Bachelor this season.
And on a YouTube live stream hosted by Chris Harrison last month, in which he introduced viewers to all the contestants, he revealed a few tidbits about Tayshia. According to Chris, Tayshia is "the life of the party," she has "serious chemistry with Colton," and she is "one to watch this season."
This season of The Bachelor will air its three-hour premiere Monday, Jan. 7, at 8 p.m. on ABC.
After a very frustrating first birth experience, this Deaf mother wanted a change. Will the help of two Deaf doulas give the quality communication and birth experience this mom wants and deserves? Watch Episode Four of Romper's Doula Diaries, Season Two, below, and visit Bustle Digital Group's YouTube page for more episodes.