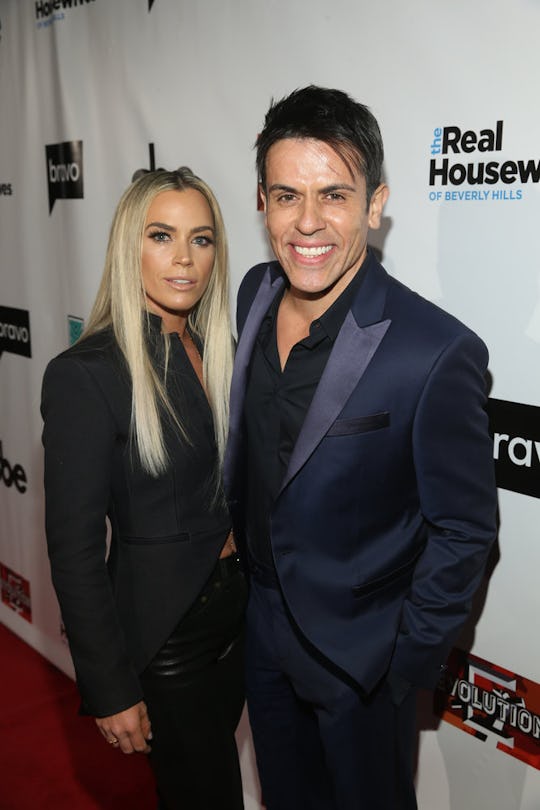 Jesse Grant/NBC
'RHOBH' Star Teddi & Her Husband Are Making Serious Bank
It's no secret that the stars of The Real Housewives franchises have a ton of money. After all, their incredible wealth is one of the main reasons it's so much fun to watch them. It's also why I spend an absurd amount of my free time looking up the estimated net worths of all of these stars, as well as their husbands. Now with a new Beverly Hills Wife, they get the same treatment. So what is Teddi's husband's net worth? This RHOBH couple is clearly living the good life, but unfortunately I'm unable to give you a specific number just yet.
Sadly for all of us, there doesn't seem to be any specific data readily available that estimates the exact contents of the family's bank accounts. However, by doing a little sleuthing, I can try and guess at least what kind of tax bracket we're looking at here. Maybe. Even the most qualified of income-guessers can't tell exactly how much money a couple is worth. At least, not without looking directly at their finances which sounds like a major invasion of privacy. All I can say for sure is that they're not exactly hurting for cash at the moment.
Teddi's husband Edwin Arroyave works as the CEO of Skyline Security Management, a fast-growing security company that by all accounts is doing incredibly well. He started the company on his own way back in 2004, and has successfully steered the business in a profitable direction ever since. I can't find any direct reference to how much money he's pulling in, but he has been fairly candid that he's not doing too shabby and that the venture has been highly profitable. He was named as one of Security Systems News' "20 Under 40" in 2014. In the interview accompanying the small profile, Edwin was pretty honest about how well he's doing.
When asked what inspired him to get into the security industry, Edwin said bluntly, "I love the money part of it." Maybe this seems a little cynical to some, but to me that's just honest and practical. Why not love the money part of it? Of course, that's not all that he said about his profession. He also added, "But I also saw the demand for it. Growing up in Huntington Park, [Calif.], I saw many burglaries and I just felt good about being able to do something." Edwin talks even more about his upbringing in his LinkedIn profile.
In his LinkedIn bio, Edwin explains that he took financial responsibility for his family at a very young age. This experience influenced his very serious work ethic which probably has something to do with the great success he's had since he was young. He apparently started working as a telemarketer at just 15 years old and subsequently broke every company sales record in his five years of working there. Clearly, he had a gift for salesmanship.
While I can't point to any specific evidence of the couple's wealth, I do have a plethora of anecdotal data to back up my claim. The first being, obviously, their place on the show. Right from the jump, Teddi accompanied the other women to Las Vegas, and you know you have to have deep pockets to compete with these women. She has also done a tour of her house for Bravo TV. In case you were wondering, it includes an infinity pool and a view that would take Lisa Vanderpump's breath away. Now, I'm no house appraisal expert, but that doesn't sound like the kind of home one can afford on a middle class salary.
As for the specifics, I guess we'll just have to wait for the couple themselves to spill the details.
Check out Romper's new video series, Romper's Doula Diaries:
Watch full episodes of Romper's Doula Diaries on Facebook Watch.